Virtual reality headsets aren't cheap. Facebook's (FB) Oculus Rift and HTC's Vive sell for $400 and $600, respectively, and you still need a powerful PC with a dedicated graphics chip to run them.
Microsoft (MSFT) wants to change that with its Windows Mixed Reality software, which runs on a number of headsets produced by companies ranging from Acer to Samsung. Available as a free download for all Windows 10 users, Windows Mixed Reality can be used with PCs ranging from those with basic, integrated graphics chips to hardcore beasts favored by gamers.
I gave Windows Mixed Reality a spin using Samsung's new $499 HMD Odyssey — weird name, I know — and the combination made for what might just be my favorite piece of VR headgear yet. Here are the best parts about that headset:
Works with a wide array of Windows laptops and desktops
Comfortable to wear
Easy setup
No external sensors to fumble with
The headset is big, but comfortable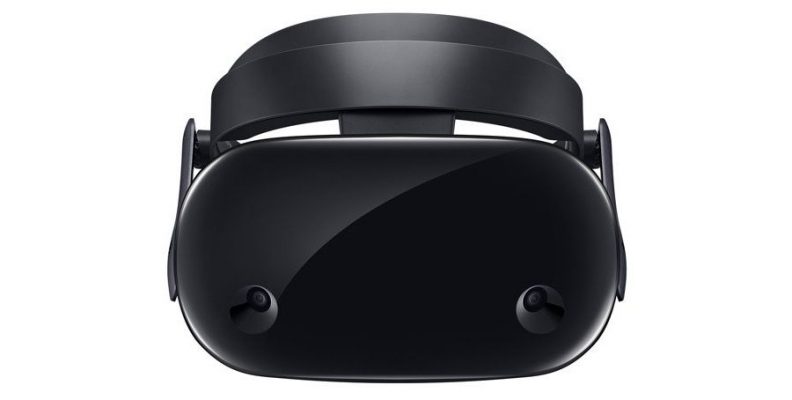 The Odyssey, like many VR headsets, is a bulky contraption that you strap to your head to jump into virtual worlds. As far as comfort goes, the Odyssey is relatively cosey and nicely cushioned around contact points like the forehead and rear.
The Odyssey offers a 3.5-inch AMOLED display with a resolution of 1,440 x 1,600 per eye, which is a bit sharper than the Rift's and Vive's. That's important, because with the headsets positioned so close to your eyes, individual pixels are easier to see. And if you don't pack enough pixels into a VR display, you'll end up with a kind of screen-door effect, where you see the lines between each dot, which diminishes the experience.
I certainly didn't notice this during my time with the Odyssey, but the display still isn't nearly as crisp as a 1080p TV viewed from your couch.
Controlling yourself
Each of Microsoft's Windows Mixed Reality headsets comes with a pair of touch controllers adorned with rings of white LEDs. Oculus and HTC also include controllers with their headset packages.
I found the Windows Mixed Reality controllers comfortable to hold and manipulate, but at times I accidentally pressed the Windows button and exited to the Mixed Reality home screen while playing games.

It's helpful that Microsoft made the controllers compatible with standard AA batteries too, since I hate having to recharge the internal batteries for my PlayStation VR headset when they die.
Inside the machine
You navigate through your VR world via Microsoft's aptly named Cliff House. The app, which is similar to setups in other VR systems, lets you place apps you frequently use on its walls like interactive paintings.
A massive theater room lets you view movies on an enormous display, while the Windows Store gives you access to new VR apps to download.
As far as Windows Mixed Reality apps go, Microsoft gives you access to a number of offerings in the Windows Store, as well as VR versions of traditional apps like the Edge browser, Photos and Mail.
My only problem with things like Edge, though, is that typing web addresses requires you to hunt and peck using the motion controllers' pointers. It's a pain, and makes visiting websites rather burdensome.
You're not limited to just using Windows Mixed Reality apps, though. Microsoft's headsets also work with Valve's Steam VR, which means that you can play any VR games you bought through the service.
This article was originally published by Yahoo finance