If you've gone looking for a virtual reality experience, there's a very good chance you've seen some very adult things.
New statistics gathered by the aptly named VR porn site VRPorn.com show that when it comes to the virtual reality space, a surprising amount of it is occupied by, well, porn.
They report that some 60 percent of the top VR websites are porn platforms — and traffic to those sites is up 50 percent in 3 months. When it comes to searching for VR, "vr porn" is the number one related search term, which beats out other big terms like "vr games" and "vr videos."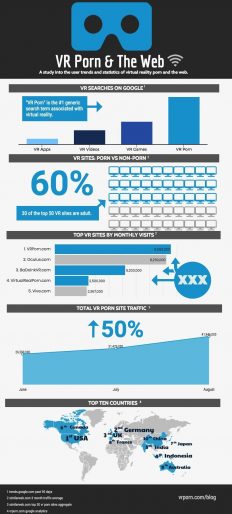 VR has long been hailed as the next big thing in entertainment, but it's been slow to take off among the general public. Many of the more high-end headsets require you to make a substantial investment in hardware, which has deterred people with only a passing interest.
There are also very inexpensive cardboard viewers which only require you to use a smartphone. And that seems to be what's driving people to look for web-based VR content. Web VR lets people look at whatever they can find using their browsers, without the need to download large programs.
This being the internet, of course many people are poking around looking for porn. It's also really the only place where VR porn can flourish, since most of the big VR platforms don't allow adult content.
Most of the existing online porn platforms have made a push to cater to those in search of VR content. Pornhub, which started carrying VR content in the spring of 2016, said this summer that their virtual reality videos get more than 500,000 views per day.
But there are still plenty of challenges in serving up adult content in virtual reality form. Porn platform xHamster has a dedicated VR site which they've used to try to solve some of the main issues people face.
Nick Fast, their chief technical officer, told Mashable that beyond the nitty gritty challenges of making videos work on an array of devices, the user experience is also difficult to get right.
For instance, in most VR environments you use your hands to navigate around. But when it comes to watching porn, you clearly need them for something else … So, Fast said, "We decided to concentrate on hands-free operation to make user's life as hassle-free as possible."
It's also difficult to shoot high-quality content that works in a given player. Glitches can result in some very odd moments. Fast explained, "Once I saw a video shot from low position — the girl in it looked like a 15 feet tall giantess."
Headsets and cords can also get in the way of a seamless immersive experience, and using them for any length of time can be hard on the head and neck.
Still, despite the hurdles, people's hunger for adult content could pave the way for the technology find a larger audience. VRPorn.com compares it to the old days of video when "porn helped VHS dominate the market."
Reference: Mashable