The iOS 11 release date is today, Tuesday, September 19, and it's a big update for your current iPhone and iPad.
Apple's new software update gives your smartphone or tablet a refresh, even if you're not upgrading to iPhone X or iPhone 8. Your device will feel as good as new thanks to several iOS 11 features.
So what's it like? Is it worth downloading right away? And is it bug-free enough for you to do so? Below you'll find our thoughts on every major iOS 11 feature.
iOS 11 release date
iOS 11 launches today (Tuesday, September 19) which is a week after the iPhone 8 and iPhone X launch event. It's come out of beta after a four-month test phase.
We don't know exactly what time Apple will release the final software, but it usually comes in the morning in the US and early evening in the UK, so you may have to wait a few more hours for the official release.
iOS 11 features exclusive to the new iPhones
iOS 11 includes a couple of iPhone X-exclusive features that you won't find on the iPhone 8 and iPhone 8 Plus, or older handsets.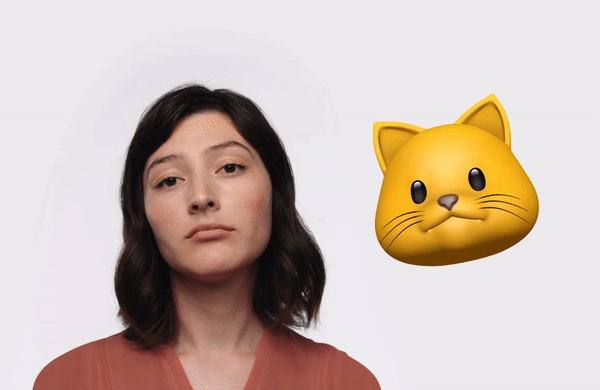 Apple is combining emoji with animations, and it takes advantage of the iPhone X's 3D face-scanning TrueDepth camera array. The result is Animoji, which tracks the muscles in your face to animate the emoji. All of your Messages texts will benefit (or suffer, depending on your view of expressive emoji).
Face ID and home-button-replacing gesture-swiping will also be an iPhone X-only feature. Face ID replaces Touch ID as a biometric sensor, and it's going to take time for people to learn how iOS 11 replaces the home button on the new flagship Apple phone.
Portrait Lighting, also available on the iPhone 8 and 8 Plus, is an option Apple has added to its existing background-blurring Portrait Mode photos. It uses the dual-lens depth-sensing camera and machine learning to simulate a range of lighting effects: Contour Light, Natural Light, Stage Light, Stage Light Mono, and Studio Light.
How iOS 11 changes your current iPhone and iPad
iOS is an especially big upgrade for the iPad, which can now be considered a more viable laptop replacement thanks to revamped iOS multitasking. Both the iPad and iPhone get a much-needed Control Center reorganization too.
Apple Pay will support peer-to-peer money transfer, there are new camera modes, Siri is smarter, and iOS 11 (finally) thrusts Apple to the forefront of augmented reality innovation with ARKit.
Here the highlights of iOS 11 beta, and how it'll enhance your existing iPhone and iPad experience.
iOS 11 dock makes iPad multitasking easy
The new iPad Pro 10.5 and iPad Pro 12.9 are becoming laptop replacements for many people, and iOS 11 makes that a reality thanks to improved multitasking.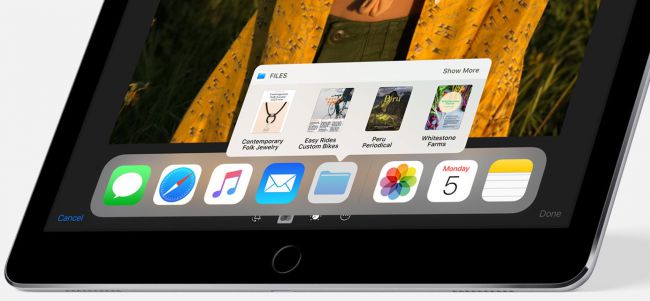 iOS 11 includes a dock just like a Mac computer, and it follows you from app-to-app along the bottom. It's hidden, but you can always swipe up to access it.
The bottom app dock also shows up in the multitasking menu, which is now laid out in a grid. It's easier to jump between apps now, just like on any MacBook.
TechRadar's take: This is the most important iOS 11 change if you own a newer iPad. We found that the new dock and multitasking grid menu felt less like a siloed app switcher and more like a multi-window-friendly computer. That's important for the growing number of people who use their iPad Pro as a laptop replacement.
Drag and drop comes to the iPad
Drag and Drop also debuts on iOS 11, and instantly launches apps in split-screen mode when you drag them to the side of the screen.
You can also transport items across a split screen: text, photos, hyperlinks, files, and so on. This – not the iMac Pro – is Apple's answer to a touchscreen computer.
iOS 11 makes the iPad feel more like a laptop than merely a super-sized iPhone, and it's something that no Android tablet, not even the new Samsung Galaxy Tab S3, offers today.
Drag and Drop for iPhone may be a possibility in the future.
TechRadar's take: Drag and drop removes several unnecessary steps when using an iPad for productivity purposes. In our testing, we were relieved to no longer be forced to copy and then paste simple text and photos between a split-screen menu. It's all right there. For the last two years we've thought you should be able to drag and drop. Now you can.
iOS 11 features hint at iPhone 8 AR
iOS 11 gives Apple the largest AR platform in the world – overnight, thanks to so many iPhones and iPads bing out there. It's an instant boon for augmented reality fans and developers alike.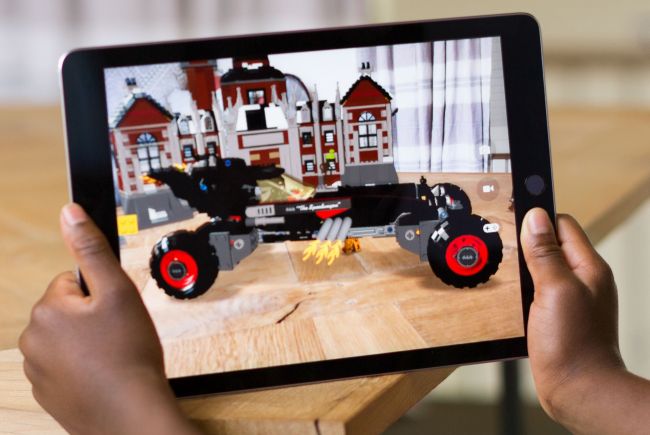 That's why the developer-focused Apple ARKit is a big deal for everyone, not just app makers. It hints at the biggest features to come from the iPhone 8 three months from now. Get ready for a futuristic life in augmented reality.
What is Apple ARKit on iOS 11 exactly? Developers will be able to overlay virtual objects on the real world using your iPhone or iPad and its camera.
It's like a really advanced version of Pokemon Go, but with many more possibilities.
In fact, Pokemon was one of several AR demos Apple showed off. But we were even more impressed with what Peter Jackson's studio Wingnut AR demoed.
Its complex AR showcase involved a battle between an outpost and spaceships, and it all happens on an otherwise peaceful, empty living room table.
Speaking of tablets, Ikea is reportedly a launch partner for the iOS 11 AR feature, letting you place imaginary furniture in rooms down to the millimeter.
Apple just created a new playground for millions of existing devices, and put the Microsoft Hololens and Google Tango on notice.
TechRadar's take: Don't expect a whiz-bang augmented reality experience if you download the iOS 11 beta right now. These are developer tools meant to craft an AR future for the iPhone and iPad. That said, we're very hopeful for Apple's big AR push given how many iOS devices there are out there.
iOS 11 puts Apple Pencil to the test
The Apple Pencil is a great little tool for the iPad Pro series, but our one complaint in our iPad Pro 9.7 review was that you can't use it everywhere you'd like to in apps.
That all changes with iOS 11. Instant Markup lets you draw on PDFs and photos, while Instant Notes lets you jot things down ASAP – right from the lock screen.
All of your Instant Notes on the lock screen are saved in Notes, so don't worry. And drawing on Notes near existing text cleverly now moves the text out of the way.
Document Scanner in Notes does away with the need to painstakingly scan important documents that you need to sign.
It scans, crops edges, removes tilt and glare and lets you fill in the blanks or sign away with an Apple Pencil.
TechRadar's take: This is another significant update for the iPad Pro series. We're not saying the Apple Pencil was useless, but the scenarios for it were very limited (hello, artists). Now, iOS 11 makes it a productivity tool, and it goes hand-in-hand with the wizardry of Apple's document scan.
New iPad keyboard shortcuts
Apple is making a big productivity push with the iPad Pro 10.5-inch, and iOS 11 is doing its part with tweaked keyboard shortcuts.

It combines letter keys with numbers, symbols and punctuation marks (currently found on the second keyboard layer), letting you access them with a new flicking gesture.
Flicking these secondary numbers and symbols downward is easier than having to switch back and forth between the two layers. We kind of wish it were coming to the iPhone 7 Plus, too.
TechRadar's take: This is one of the smallest iOS 11 changes, but also one of the most important. Not having to flip back and forth between keyboard layers saves you a step, which results in about half a second of saved time. Add them up over the course of the day, and you've got more time on your hands and a less stressful means of typing out a real email that's longer than one line. We really like this new iOS 11 feature.
Apple Files opens up your many clouds
Apple is debuting a new Files app in iOS 11 that lets you sort through all of your files. Your can browse, search and organize them all in one place.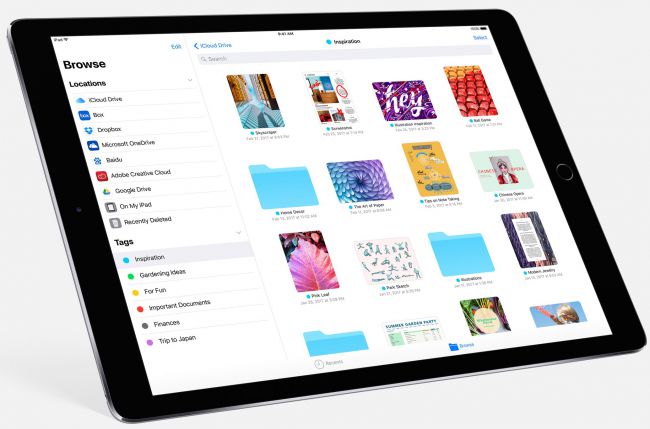 Apple Files not only has recent files from your iPad, but on other iOS devices, in iCloud Drive and from other services, including Box, Google Drive and Dropbox.
It's just one more way Apple is trying to make the iPad Pro a de facto computer for people who don't need a MacBook 2017 or iMac Pro.
TechRadar's take: This move, like announcing the Apple Pencil two years ago, goes against what we expected from the company. However, it's a welcome change with iOS 11. You may not use files right away, but as you rely on the new remote document and photo repository more and more, it'll become essential to your device.
Welcome to the new App Store
We didn't get an iTunes refresh at WWDC 2017, but iOS 11 is giving us a brand new App Store on the iPhone and iPad.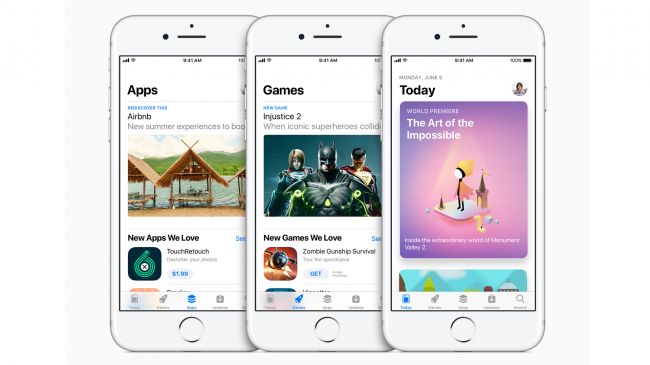 The Today tab leads things off by refreshing its app picks daily and telling stories behind the top apps. The format feels very much like what Apple did in Music last year.
Don't worry, every app will still have a product page, but iOS 11 is putting a lot of focus on the new 'Games' and 'Apps' tabs to spotlight the best in those areas.
Apple says the new App Store on your mobile devices is 'designed for discovery' and is a way to make app downloading exciting again, like it was nine years ago.
TechRadar take: We've looked around the new App Store on iOS 11 and like what we see for the most part. The updates tab isn't as streamlined due to more white space among menus and larger text that spans more lines than before, but everywhere else there is of benefit. It's about time things changed for this app.
More: TechRadar