Windows Mixed Reality (WMR) is Microsoft's route into virtual reality (VR) experiences for Windows, without the need for a ultra-fast and expensive PC setup. There are a variety of third-party headset options, of which the Asus HC102 is perhaps the most interesting – offering a more striking design than its Acer, Dell Visor and Lenovo Explorer competition.
However, as we criticised with the already-available Acer headset, with WMR in its early days there's not a great deal that can be done with the system. The Asus headset won't be available until December 2017 – by which time we might have Steam VR availability and more appropriate applications to access – but is it worth waiting for, or does one of the already established headsets, such as Oculus Rift, make greater sense to buy instead?
We sampled the Asus Windows Mixed Reality HC102 at an Intel 8th Generation CPU showcase in London, to get an early taster.
What is the Asus HC102?
The Asus WMR Headset is, as its name suggests, a visor-like headset that comes complete with two hand-held controllers, used all together for a fully interactive Windows VR experience.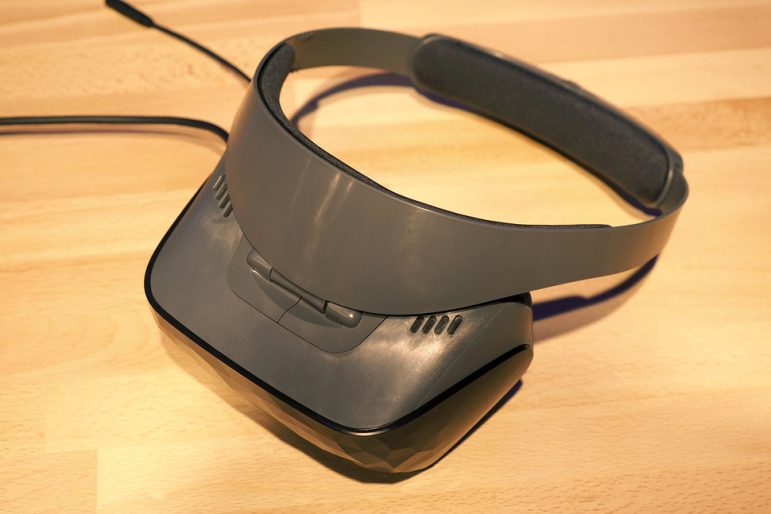 You'll need an up-to-date Windows 10 setup, with one available USB 3.0 ports and one HDMI to tether the device. Just like all its competitors, the Asus headset requires wires leading from PC, which is the current norm for VR – we look forward to the day when it's wire-free!
What you won't need, however, is a crazy-powerful PC. So long as you have the Fall Creators Update and an Intel Core i5 chipset or greater (no discrete graphics required) you should be good to go. Which is what sets the Windows system apart from higher-spec HTC Vive or Oculus setups.
An easy setup is also principal to the Asus MR headset. It doesn't require additional sensors, instead using the two cameras to its front to read the room around you in real time. The setup process takes a matter of minutes.
What's with the polygon design?
The most striking thing about the Asus HC102 is the its main visor section isn't smooth and rounded, but made up of multiple polygons. It's a more visually arresting design than any of its near competitors. It's not for an distinct purpose, but it looks way cooler than the competition – especially when seen against the blue plastic design of the Acer headset.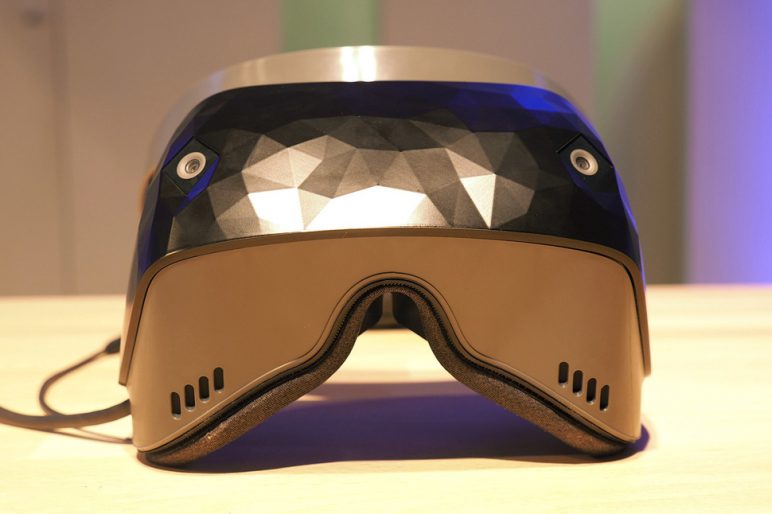 That said, the Asus does look and feel rather plasticky. The press shots of the headset make it look more substantial than it feels in the flesh. I the same breath this also means its lightweight: at 400g it doesn't feel too weighty on the head, with only a little downward pressure on the nose after fitting.
Fitting the headset is easy, by using the adjustable wheel to the rear – a bit like a cycling helmet or similar – to ensure it fits snugly to the face. The padding is particularly comfortable, and as the visor section flips up and down without the need to fiddle with any additional buttons or latches, its really easy to grab the controllers yourself and not feel too "trapped" in the virtual world.
Is it technically better than the competition?
When it was first announced, the Asus headset sounded like the most adept system going, thanks to its 2880 x 1440 resolution and 90Hz refresh rate. While that's prefectly good for decent visuals, it's not actually better than any of its competition.
Firstly, the resolution is 1440 x 1440 per eye, making the combined total 2880. Secondly, the 90Hz refresh is matched by Dell, Acer and Lenovo – so long as you are running Windows Mixed Reality Ultra and have the relevant beefier PC spec to handle this.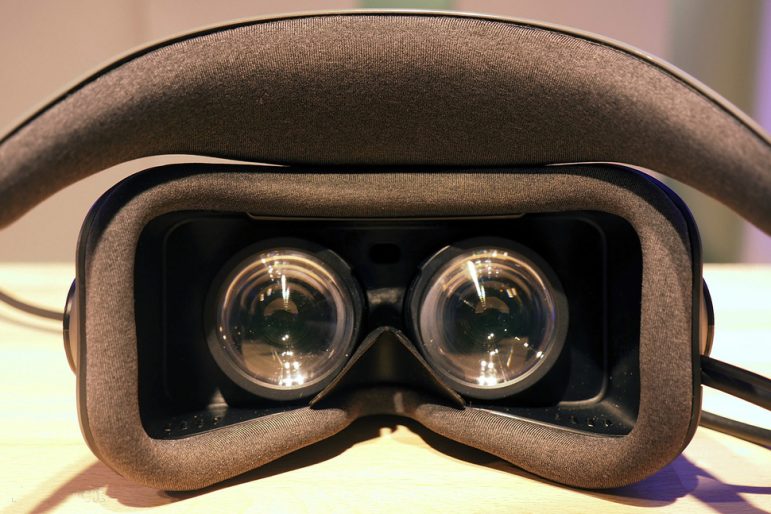 Which, ultimately, means it comes down to design. While visually more interesting than its competitors, having used all of the major four headsets, its actually the Dell which is most comfortable to wear and most complete. The Asus lets too much light in from the rear, we found, something that Oculus doesn't do by comparison.
Then there's the price. It's thought that Asus will be selling its Windows Mixed Reality headset for £449 come December – which is £50 more than the Acer and even pricier than Oculus Rift. Realistically, it needs to be less than the latter to stand a chance of pushing Windows' VR agenda forward.
What's available for Windows Mixed Reality?
At launch the Windows Mixed Reality experience opens to door to Microsoft's Cliff House. It's a physical venue with all your base Windows components accessible. Watch a movie or 360 video in the theatre. Make Skype calls. Listen to on some tunes. Go exploring for the sheer hell of it. There are a variety of Windows applications in VR form, which is fun, but not a distinct reason to buy the headset.
Its with distinct VR games that there's most interest, in our view. Problem is, right now, there aren't that many available in the Store – just as we said in our Acer review. We're still waiting on Steam VR to launch properly before there's a greater expanse of content.
First Impressions
If you're super keen on Windows Mixed Reality then, right now, our advice would be to wait. Wait until there's more content available within the ecosystem. Wait until at least December 2017 – or, more likely, some time into 2018 – when a variety of third-party headsets ought to be available to compare and contrast. And, with any luck, Steam VR should be available by then for a stronger gaming focus.
Of all the WMR headsets we've seen – Acer, Dell, Lenovo – the Asus looks the most visually interesting. But it's not actually the best one out there, an accolade that goes to Dell in terms of fit/adjustment/comfort, from what we've tested so far. Technically speaking no one headset offers a higher-resolution or refresh rate than the other.
Plus, exit the whole Windows loop and, well, Oculus Rift is available for the same price or less, right now, and offers far more content. Which puts the brakes on the whole idea of the Windows setup for the time being. There's promise, sure, but there needs to be a little patience before there's the potential can flourish. Oh, and the third-parties need to cut the price, too.
This article was originally published by Pocket-Lint.