If $200 is your sweet spot for a VR headset and controllers, now's your chance.
The big promise of Windows Mixed Reality headsets was to bring augmented and virtual reality and anything in between to people at more reasonable prices and with an easier setup than competitors. By the time they rolled out late last year, though, it was mostly just the latter that came true: Once the headsets were bundled with controllers the WMR headsets cost the same or more than the current $399 Oculus Rift bundle.
But, there's nothing like a steep price cut to spark some sales.
As spotted by GameDeals on Reddit, Amazon currently has prices on Windows Mixed Reality headset and controller bundles from Acer, Dell, HP and Lenovo to around half of what they are elsewhere. Note, though, that these deals appear to only be available through third-party sellers and fulfilled by Amazon, so you'll want to check their ratings and reviews.
All of these headsets and controllers are designed to meet Microsoft's specific requirements, so there aren't huge differences between them and have the same basic set of specs:
Two high-resolution 1,440×1,440-pixel LCDs with up to 90Hz native refresh rate
Front-hinged display for quickly lifting the viewer up and out of the way
Built-in 3.5mm jack for audio and microphone support
Single cable with HDMI 2.0 and USB 3.0 for video and data
4-meter (13.1-ft.) cable
Samsung's Odyssey HMD headset, which is $500 and not currently marked down on Amazon, offers a slight variation to the formula by using 1,440×1,600-pixel AMOLED displays and skipping the flip-up design. It also adds built-in premium AKG headphones and has a focus wheel to adjust the distance between the lenses. Otherwise, the differences come down to overall design. And even those don't vary too much.
What else you should know
Will I need a new PC?
Maybe. A big plus for the WMR headsets is that you don't necessarily need a superpowerful PC to drive them for all uses. According to Microsoft, there will be WMR desktops and laptops with integrated graphics starting as low as $499 (approximately AU$630 and £390 converted) that will run the headsets at 60 frames per second, while WMR Ultra PCs with discrete graphics will run at 90fps. Microsoft has an app you can run to check if your PC is WMR ready.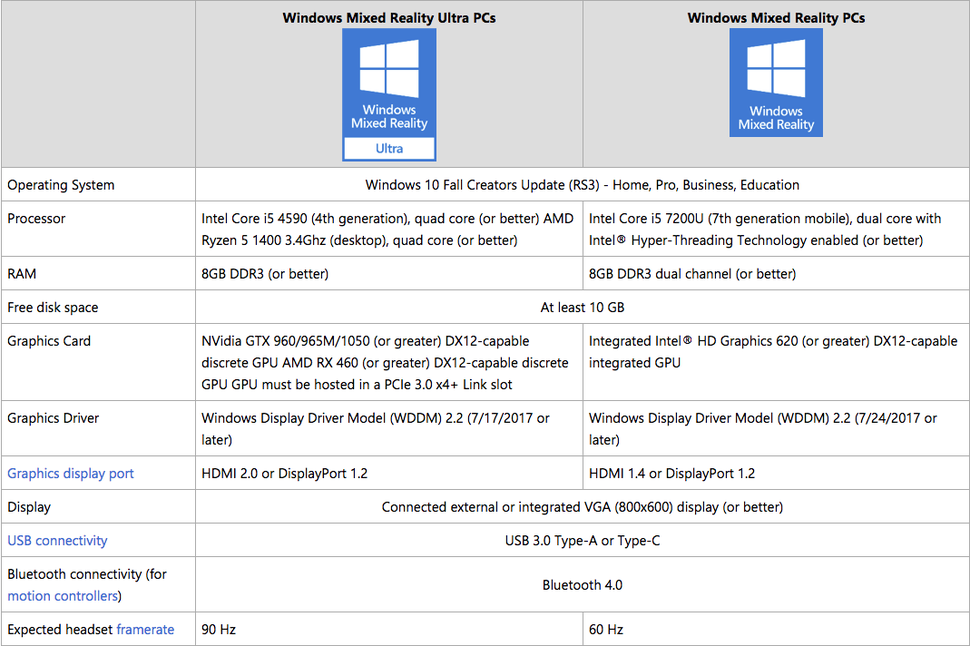 Headsets aside, the more demanding the games or content you want to experience, the more powerful — and pricier — your PC will need to be. HP has a list of recommended system requirements for its developer edition headset that you can use as a baseline for what components to look for to get the most from the headsets. Also, one thing you definitely will need is the Windows 10 Fall Creators Update.
What games and apps can I use?
For starters, you'll be able to use all 20,000 Universal Windows apps in mixed reality. Basically, the headset will act like a monitor attached to your face. Again, that's why you won't necessarily need high-end components in your PC to use the headset for everything like watching 360-degree videos or regular movies for that matter.
The headsets will also work with HoloLens apps, and Microsoft announced that it's "working with 343 Industries to bring Halo experiences into mixed reality." Gaming company Steam is compatible with Windows Mixed Reality hardware, too.
This article was originally published by CNET.