Although virtual reality did not capture mainstream attention in the way some expected when commercial hardware launched in 2016, it can still build a lot of hype around it. The latest and greatest examples of that are the Pimax "5K" and "8K" VR headsets currently seeking funding through Kickstarter. They've now brought in more pledged dollars than the original Oculus Rift DK1.
The original Oculus Rift campaign for its first developer kit headset hit the internet at the end of summer, 2012. It gave us our first indication that virtual reality was a hype train worth getting aboard, as close to 10,000 people pledged more than $2.4 million to help bring the headsets to life. Since then we've had multiple developer versions and consumer hardware releases from Oculus and other companies.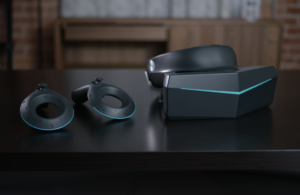 Now though, with a lull in hardware releases between generations, Pimax has captured the imagination of VR hopefuls and fans once again, with promises of pseudo-5K and 8K virtual reality (actual resolutions are dual 2,560 x 1,440 and 3,840 x 2,160, respectively). They're at relatively low prices too, with one Pimax 5K headset costing $400, while the basic version of the 8K headset is priced at $500.
The downside is that these headsets do not come with controllers, or with trackers — they work with existing SteamVR Lighthouse laser sensors. There are options for bundled sensors and controllers, too, but those edge the price up to as much as $800.
So far the campaign has drawn in close to 4,000 backers and between them they've pledged just shy of $2.5 million at the time of writing, which makes the Pimax VR headsets the most highly crowdfunded in history (thanks RoadtoVR).
If they make it to that next million-dollar milestone, which seems quite possible, it will unlock a stretch goal to add three new pieces of "selected content." At $3 million, the developers pledge to add eye-tracking to the headsets. Already unlocked stretch goals include an additional face cushion, head strap upgrades with bundled earphones (like the HTC Vive deluxe audiostrap), custom prescription lenses, included cooling fans, and a wireless transmission module.
The Pimax headsets promise a lot, which is perhaps why they've managed to generate such a lot of interest and financial investment from fans. With a week still to go, it seems likely that at least a few hundred more potential backers will get on board.
The first versions of the Pimax headsets will begin shipping out in early 2018. Time will tell if Pimax will enjoy the same financial success as Oculus VR, which drew in tens of millions in additional funding before its eventual purchase by Facebook in 2014 for $2 billion.
This article was originally published by DIGITAL TRENDS.