Earlier this year, Valve confirmed that LG was developing a VR headset utilizing SteamVR Tracking, making it one of the first headsets to do so outside of HTC Vive and the upcoming Pimax "8K" VR headset. While still unnamed when we first demoed the headset at GDC in March, a recent trademark filing with the European Union Intellectual Property Office (EUIPO) now suggests the headset will be dubbed 'UltraGear'.
First reported by Dutch publication LetsGoDigital, LG filed the trademark application with EUIPO on October 17th, stating that the UltraGear name categorizes a product relating to "Head-mounted holographic displays; Virtual Reality headsets."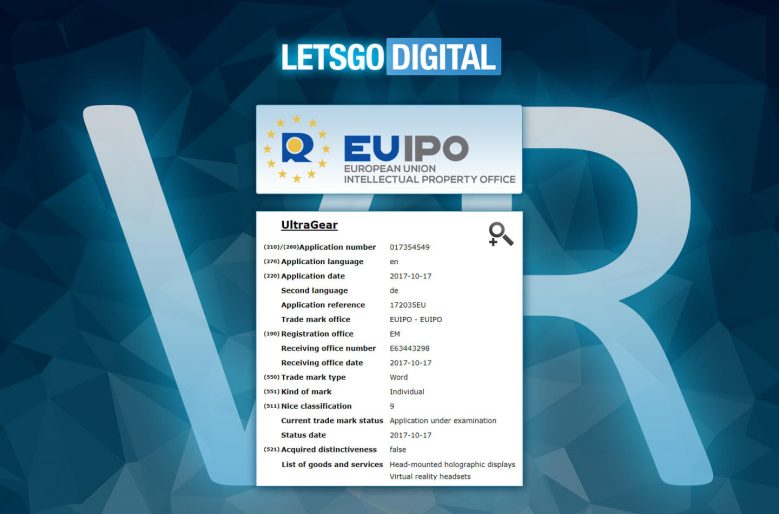 LetsGoDigital maintains the UltraGear name specifically applies to LG's SteamVR headset, although there's nothing beyond the trademark filing that would suggest a definite answer to the affirmative. While it's possible LG has created an entirely new headset intended for the UltraGear naming scheme, for example working in the Windows 'Mixed Reality' hardware ecosystem, LG has only shown its SteamVR-compatible headset, making it more plausible that it's moving out of full production and heading into its marketing phase.
The South Korean multinational has made minor headway in the VR market thus far, starting with its ill-received 'LG 360 VR' headset which specifically connects to the LG G5 smartphone via a dedicated cable, an unusual departure from the standard convention of using the phone's display to drive the VR experience. LG's V30 smartphone shows more promise as one of the few 'Daydream ready' flagship smartphones, although a 'tethered' PC VR headset would put it squarely in the thick of what appears to be the first major steps by popular OEMs to seriously enter the VR headset market.
If specs remain largely unchanged from what we saw at GDC, LG's SteamVR headset stands to have a higher resolution and improved ergonomics over HTC Vive. LG's prototype showed off a flip-up design and PSVR-style halo head strap. Its entrance into the SteamVR tracking ecosystem will also make the Vive's main selling point, famously robust room-scale tracking, less unique.
LG VR Headset Specs:
Resolution: 1440×1280 per eye
Display Type: OLED, single panel
PPI: 540
Field of View: 110 degrees
Refresh Rate: 90Hz
Lens Type: Convex, non-Fresnel
This article was originally published by ROADTOVR.