Hyundai's stand-alone Genesis luxury brand launched with two sedans, but in today's SUV-obsessed world, no brand, luxury or otherwise, can live on sedans alone. So you can probably guess what's coming next from Genesis. Enter this GV80 concept.
 It has been reported that today's nascent Genesis brand will grow by 2020 from two models to six. Two of those six will be SUVs: a mid-size luxury SUV (think BMW X5) and an entry-level luxury SUV (à la X3). This GV80, a flashy utility vehicle that in concept form has a hint of the Bentley Bentayga, previews the former.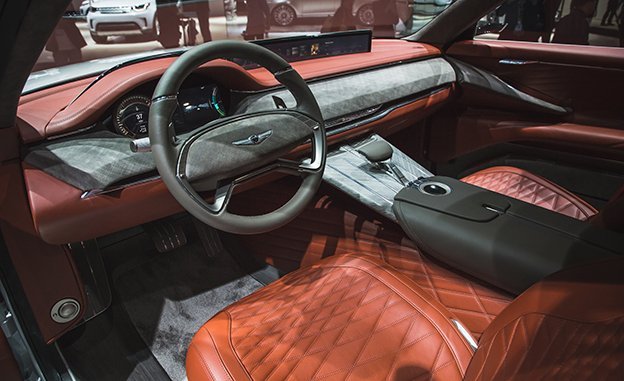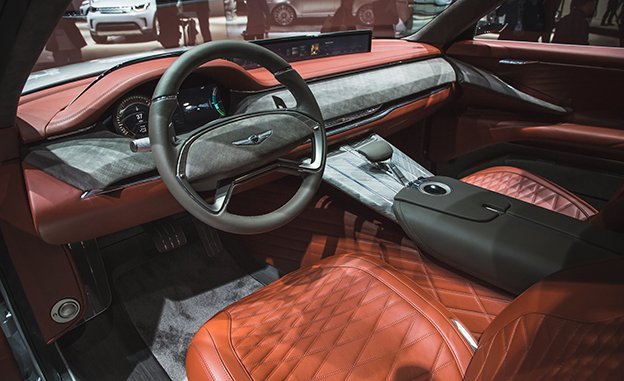 That's no coincidence. Mere months before launching the Genesis brand in November 2015, Hyundai snatched Bentley chief designer Luc Donckerwolke from the British luxury-car maker, where he had led the Crewe team since 2012. Even more than CEO Manfred Fitzgerald, it's Donckerwolke who must move Genesis past its growing pains and give the brand an identity. While the G80 and G90 sedans are attractive, they're at best generic and at worst a mishmash of familiar design cues, with no heritage to lean on as inspiration. Donckerwolke thinks the GV80 is the vehicle that could solve that conundrum.
It doesn't matter what powers the GV80 (in theory, it's a hydrogen fuel-cell plug-in hybrid). Genesis wants to prove it's capable of nailing the delicate balance of proportion, surface detail, and elegant materials using its own language. The line sweeping above the flush door handles doesn't simply end at the rear flanks, it hangs a U-turn, angles downward, and fades into the rear doors. Check out the unusually low cutline on the front fender—below the Volvo-like thin headlights—which allows an uninterrupted, curved front fascia to seamlessly blend with the lower air intakes. The detail is just as stunning here as on the Bentley Continental. But, while Bentley's high-temperature forming process would put Genesis way over budget, Donckerwolke told C/D that his team is looking at newer methods to bring this design to production.
Other details show the design team bowing to restraint, as they went with a more squared-off, traditional roofline that should afford more interior space than in trendy SUV "coupes." The 23-inch wheels have partly vented spokes that match the crosshatch patterns of the transparent B- and C-pillars (an idea pioneered by Volvo in 2001 with its Safety Car Concept, or SCC, that didn't go into production). Up front, the hood gently slopes into a V-shaped chrome grille with an elaborate diamond-patterned mesh. Slit taillights using laser-lit fiber optics echo the headlights.
Inside, there's a leather-lined stitched dash, aluminum trim, and ash wood. The expected oversize infotainment and instrument-cluster screens are rendered as a single 22-inch-wide organic LED split between driver and passenger. The metal inlays on the center stack are touch capacitive; they're shortcuts to access various infotainment functions and can be customized. Located at the edge of the armrest, a knurled metal wheel surrounds a glass touchpad that supports rotating, tapping, swiping, and pinching gestures. The center console extends to the rear seats, each of which features touch-capacitive infotainment controls. The GV80 interior—which has room for four and no more—strikes us as the Korean version of a long-wheelbase Range Rover SVAutobiography.
Genesis hasn't hinted about any timeline for production, but this vehicle—or certainly one like it—is coming. When it does, expect the real GV80 to grow normal side-view mirrors, a third row, and other family-friendly features. And then a little sibling.