Virtual reality seems to have become a very tired topic to consumers, products are still getting made though because big tech companies are convinced of its eventual ubiquity. The challenge now becomes attracting attention from people whose attention spans for what you're selling has perhaps already timed out.
Oculus Go is the latest VR hardware to hit the market from ole Facebook.com and it seems to be a pretty thoughtful move with hardware that makes some solid improvements to existing products in a package that doesn't push performance but drives down costs and complexity. I had a chance to demo the headset this afternoon and had largely positive first impressions.
Read more:  Oculus Go: Everything you need to know!
Oculus Go turns on when you press the power button and it works from there. For all the good things I've had to say about the Rift or Gear VR, a straightforward setup every time I want to use the headset has never been one of them. By owning the hardware completely, Oculus isn't beholden to what updates need to be installed or what app you have to click, it's all very simple and feels remarkably less labor-intensive.
The headset manages to feel more high quality than the Rift in a lot of ways. Comfort-wise, I would say the Oculus Go bests even the first-gen Google Daydream View headset which pretty much felt like a tight sweater on your face — in a good way. The Oculus Go fabric "facial interface" is spongey and breathable and actually fit around my glasses which is a first for headsets from Oculus.
The display is sharp and the lenses appear to be the best that Oculus has built yet. I'll need to spend a bit more time with the screen to get a full impression on this front, but assuredly this feels like far less of a toy than the Gear VR does.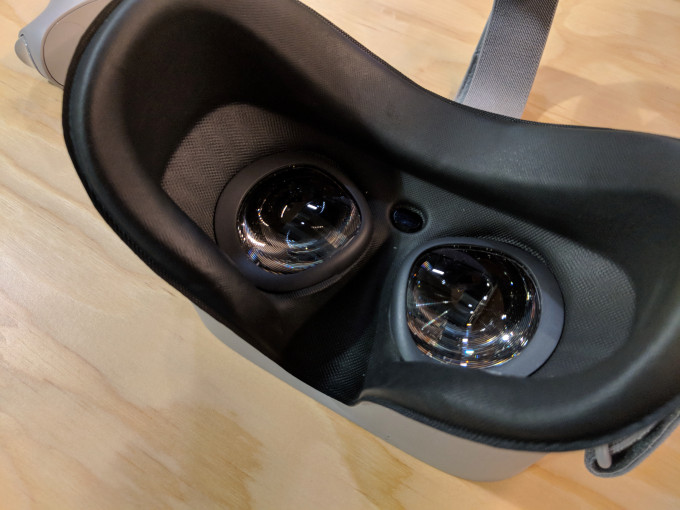 It's hard to judge the device's sound quality because the Game Developers' Conference kept a low roar even when demoing in private rooms, but I will say that the stereo speakers next to your ears seem to be more of a fallback option to headphones, delivering audio that is neither particularly loud nor crisp. That being said, I'm happy they were included given how many high-end headsets don't have any integrated audio.
Other notes, the controller is fine and is about as good as it is going to get for non-tracked input. The headset itself also didn't feel too heavy, the straps balanced things out well on my head. Ultimately, I was happy with it.
I can say that this probably won't be the company's breakthrough VR product, but it does showcase how steadily the company's VR ambitions are starting to align. As someone who has spent a lot of time with the company's hardware, I have often reluctantly found the games I've tried as moments to examine what is possible and what it groundbreaking rather than whether what I'm seeing is going to be something people want to buy as is.
My 30 minutes or so today demoing the Oculus Go was one of the first glimpses I've had of a product from Oculus that is nearly ready to be purchased by normal people. I think a mass-market product is going to still need to have tracked controllers and a tracked headset, but that will happen in due time. The company's "Santa Cruz" headset will likely be emerging next year and while it most definitely won't arrive at the Go's price point, eventually all of these features will drift down to the entry-level.
VR probably could've benefitted from playing a bit more of its early years in the shadows, but very few projects of Facebook keep a low profile. Things are finally shaping up a bit more though, and I think Oculus Go finally represents a product that feels more well put together than it doesn't. My first impression is that it's probably still a product for people who want to "try VR" rather than people who just want to get their moneys worth out of a gadget that they'll use on a daily basis, but for $199, I think Oculus can still make a pretty convincing sell for this when it goes on sale sometime in the next few months.
This article was originally published by Tech Crunch.