McLaren's Sport Series is now available in coupe, convertible and GT form, but which is best?
Forget about the retractable hardtop for the moment. As I was driving rapidly north from Barcelona, slicing up Spanish traffic in a fashion only possible with 562 horsepower and a life-affirming shade of blue paint called Curacao, I found the button for the rear window. Powered rear glass is the stuff of 4Runners and F-150s, sure, but in the McLaren 570S Spider, it's also a portal to aural delights.
Opening the barrier between engine and ear, one is immediately bathed in the kind of urgent tenor that this 3.8-litre V8 loves to sing and which wakes to a wail when I carefully flex my left foot. A full outdoor-style concert, and you don't even have to put on sunscreen.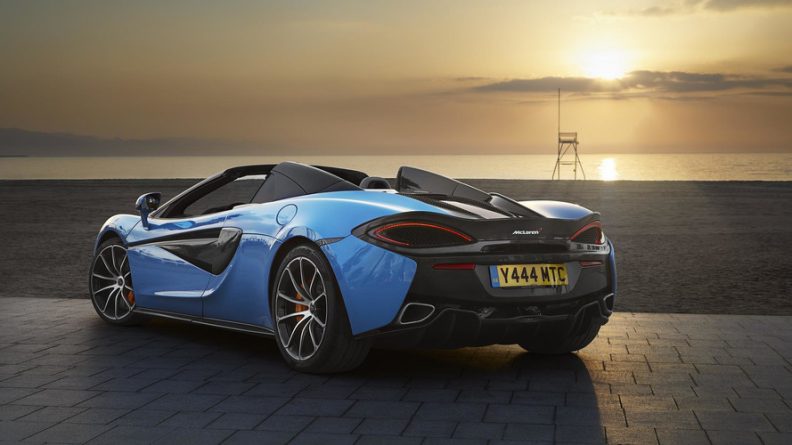 After hundreds of miles in McLaren's latest Sport Series stunner, I found a lot to report back, but the thesis is this: Subtracting the roof only adds to the 570S formula.
For those who may have missed our earlier reviews of the now three-deep 570 lineup, let's review the recipe. Extensive carbon fibre construction – including the underpinning MonoCell II chassis – highlights a focus on lightweighting.
A mid-mounted, biturbo 3.8-litre V8 engine motivates the slinky shell, leveraging the aforementioned 562 horses with 443lb-ft of torque into performance figures of 3.1 seconds 0-60mph (just 0.2 seconds slower than the coupe) and a top speed of 204mph. Moreover, all 570s are really pretty livable, with easy ingress into well-trimmed interiors and enough space even for six-foot-something galoots like me to get situated.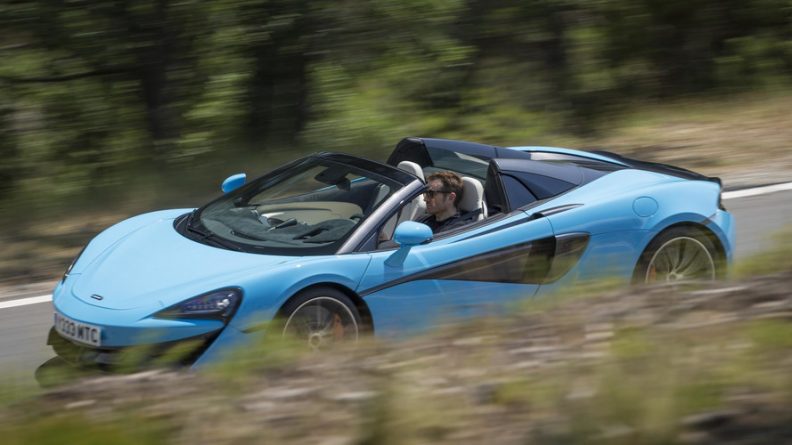 If you're more familiar with reading exotic spec sheets than with driving the cars that earn them, let me just reaffirm that '3.1 seconds' doesn't really adequately sum up what this engine feels like on full blast. Especially when rolling out from about 3,000rpm and a low gear, the effect of a fully matted throttle is akin to pounding a shot of whisky as you free-fall from a cliff – effectively palpitating and a little scary.
I found dozens of opportunities to experience this as I whipped past tractors, cyclists and slow-moving diesel hatchbacks with barely a second's hesitation. Just a few quick downshifts by way of the paddles – use manual mode, it's good – and the 570 was ready to gobble up long bits of tarmac in a few blinks.
This tincture of lightness and power is, it's no wonder, enervating on the mountain roads that I encountered on most of the drive. The Spider felt just as lively and agile here as I ever remember the coupe being. As broad curves turned into tight switchbacks, the utterly flex-free body and subtle suspension impressed in unison; rapid changes of direction didn't unsettle either the back tires, or reveal any compromises because of the open top.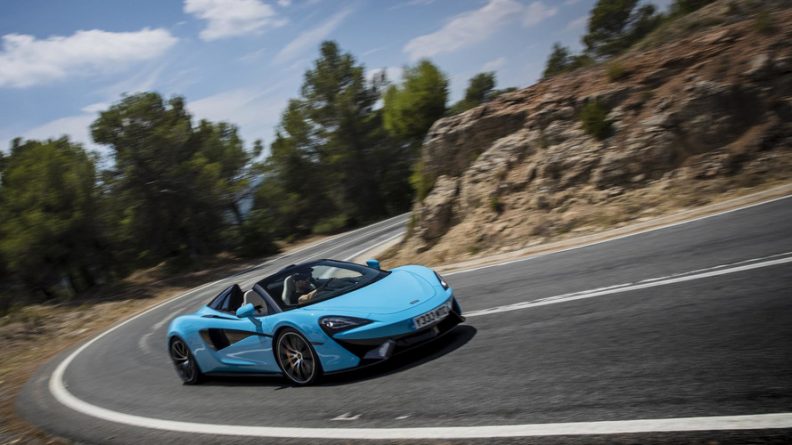 And though the Spanish roads were pretty much unbroken, the few swales and bumps in their surface were soaked up admirably, considering the super-low ride height of this super sports car (admittedly, I did bottom out once or twice).
McLaren's three-mode (Normal, Sport, and Track) adaptive suspension did good work on this trip; I covered most miles using the middle Sport suspension setting, occasionally firming up to Track levels for a bit more aggression on some very complex stretches of roadway. And the soft setting was great for passage through the occasional village, or when slogging through traffic on the way back to Barcelona.
Clearly, the 570S Spider is supercar-perfect when it comes to powertrain and suspension tuning, but where the car separates from the exotic herd is in the steering experience. Using a traditional hydraulic power steering system, the McLaren is better able to deliver road feel and feedback than even its staunchest competitors.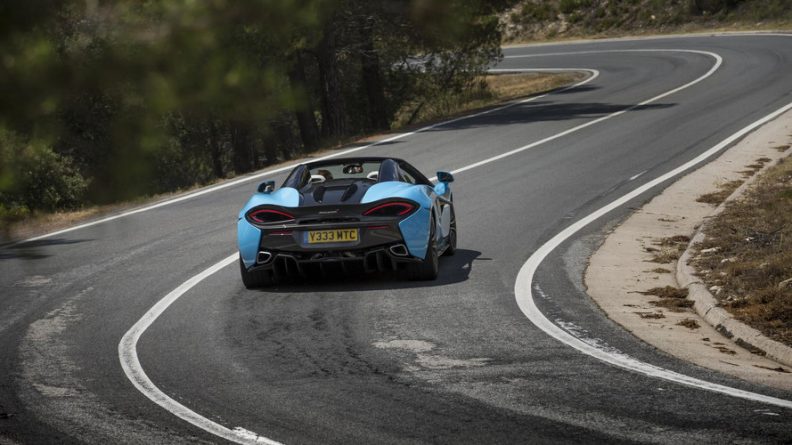 While on the gauzy subject of 'feel', I'd be remiss if I didn't mention that the brake pedal offers the stuff in spades. Exceedingly powerful, carbon ceramic disc brakes of 15.5-inches in front with six-piston calipers and 15-inch/four-piston rears were easy to modulate, as I found by way of fast closing on slow-moving traffic. Stop (and stomp) with confidence.
Let's talk about negatives. You'll remember that I began this story with the assertion that, essentially, the Spider is the best 570S you can buy; I'll circle back to that after getting a few small downers out of the way.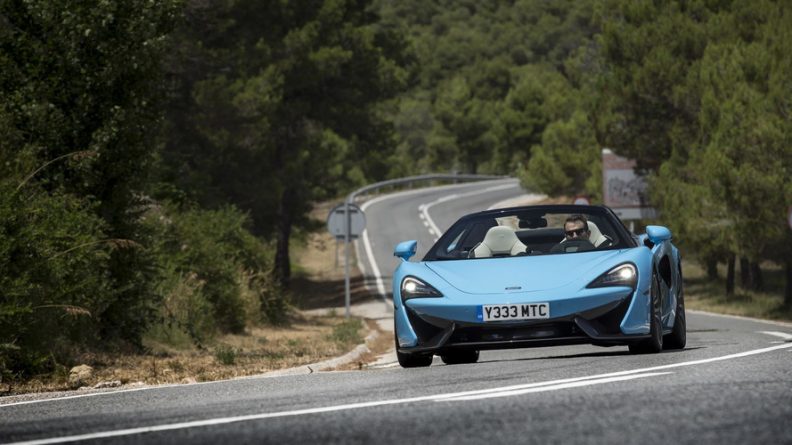 Wind control with the top lowered is quite good. I'm very tall, and yet was able to sit fully ensconced in a turbulence-free envelope behind the windshield and more so yet with the side windows raised.
That said, there was enough spillover to cause the sun visor to vibrate over about 50mph, which did get annoying while I was trying to drive the very powerful car quickly (I'm being picky, to be sure, but as a point of reference the Mazda MX-5 I just drove doesn't share this issue, even at motorway speeds).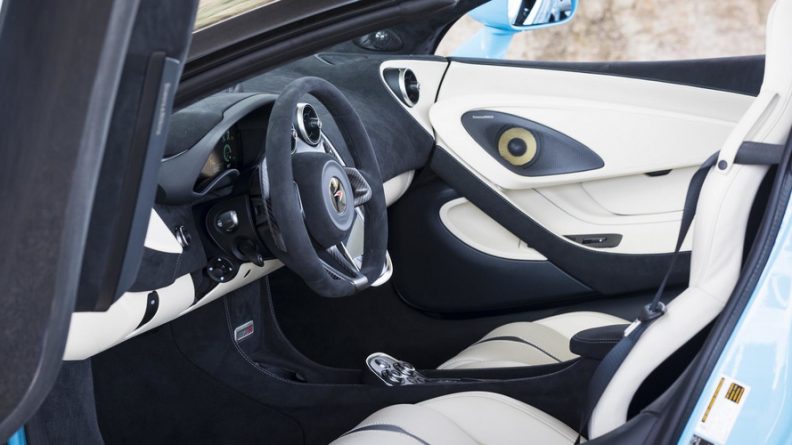 With the top raised (something that takes 15 seconds, and can be done at up to speeds of 25mph), it's quiet enough in the cabin to hold a normal-volume conversation or listen to your favourite record on the excellent Bowers & Wilkins audio system.
But it is still louder than both the 570S Coupe and the 570GT – wind can be heard whistling off the rear buttresses, in particular.
Another downside is that opting for the convertible top makes the 570S more expensive: base price of the Coupe is £145,305, or nearly £20,000 less than the £164,750 it'll take to procure a Spider. Throwing the cost of a Fiesta ST on top of a car isn't nothing – more than a little wind noise.
But I think it's also fair to point out that the customer shopping in the £160k range is most likely the same as one shopping in the £145k range (which is to say, stinking rich). Also consider that my test car had roughly £20,000 of optional equipment lathered on and you'll probably find that starting price a bit more palatable.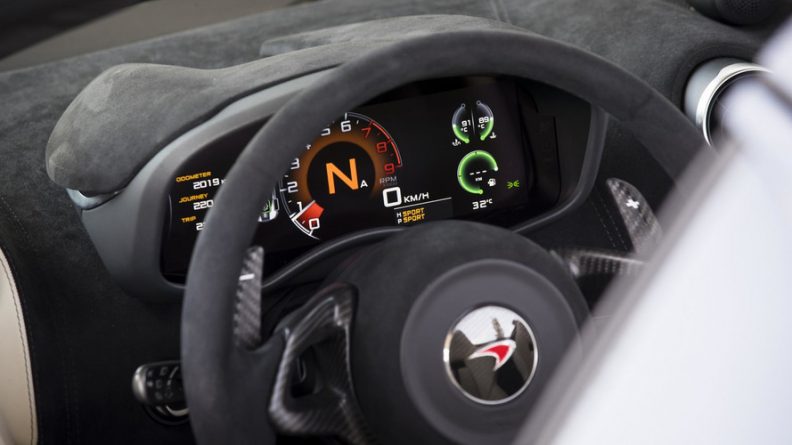 Any other negative attributes that you might expect in a coupe-to-convertible transition are either negligible, or non-existent.
There is a slight weight penalty, but it comes out to about 46kg, or the difference between having or not having a child riding along. In either case, you're a better vehicle evaluator than I if you can call out the difference on a road drive.
As I mentioned already, there's zero rigidity lost in the translation and therefore no dulling of the handling overall. And in terms of looks, I actually really like the distinctive look offered from the twin rear buttresses, in both profile and front three-quarters view. Your mileage may vary on that one – some folks just like the look of a coupe.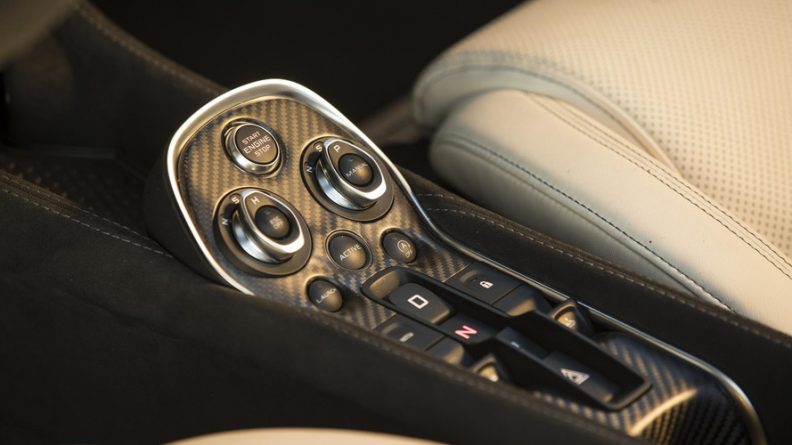 Want one, insanely antithetical, yet practical reason to talk yourself into the Spider? With the top up the space under the tonneau cover provides another 51 litres of storage space. Let your packing fantasies run wild.
Having driven the 570S Spider, I can't really imagine ordering any other version of the car (well, if the first production run of the convertible wasn't already completely spoken for).
For a fistful of notes and a few extra kilos, the Spider brought me unforgettable gifts – the rolling Spanish sky, dotted with high clouds and far away mountain peaks, a better than ever connection with the sound and fury of the charging V8 behind my head and close proximity to jealous and cheering sidewalk denizens in Barcelona.
Oh, and, of course, that cool rear window.
With the Spider, the 570S has reached its apogee and you don't even need to lower the roof to know it.
This article was originally published by motor1. Read the original article.