Virtual reality is more popular than it's ever been, and as technology continues to evolve, affordable VR experiences are more accessible than ever. For years, the common wisdom was that you needed an expensive VR headset and powerful gaming PC to have a great time, but that adage is ancient now. We've arrived at a point where you don't need to empty your bank account to have your own small taste of Ready Player One.
Like other types of popular tech, finding the best budget VR headset can be a bit overwhelming if you don't know what to look for. While there are a few headsets, like the Meta Quest 2 and PSVR, that have instant name recognition, most tend to come from small brands that you may never have heard of before. Here are the things to be on the lookout for to find the best VR headset for you.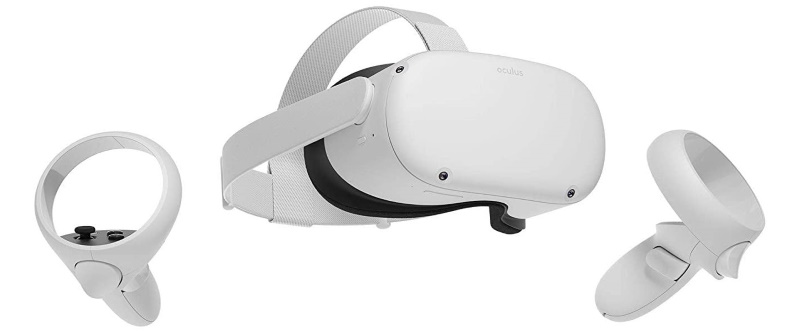 Type of VR experience: Budget VR headsets come in all different flavors, so the first thing to consider is what type of VR experience you'd like to have. If you're on the hunt for in-depth virtual reality gaming, you'll want to aim high and pick up the Meta Quest 2, PSVR, or Nintendo Labo VR. If you're more interested in movies and still-image exploration, phone-based VR is a safe and affordable bet. For smartphone-based VR headsets, we also recommend picking up a Bluetooth VR controller for easy and intuitive controls.
Platform: Investing in VR isn't just about the particular headset, it's also about the ecosystem of apps and experiences that are available on it. Most budget VR headsets work together with your smartphone, making iOS and Android their platform. The Quest 2, on the other hand, is fully standalone and has its own app store filled with content. It's also able to connect to a PC, opening the door to even more experiences (if you have the hardware to support VR). PlayStation VR and Nintendo Labo VR both rely on their consoles, and won't work on any other platform. If you're not sure what's right for you, look at the games and experiences you would most like to try and choose a headset that supports them.
Some, like Merge VR, also offer curated content ecosystems of their own. This can be an excellent value-add if you're looking for a specific type of content the headset specializes in (like STEM experiences for students). These content hubs give you fast access to different apps that should work well with your headset right off the bat.
Design and comfort: Even the best VR headset will gather dust if it's uncomfortable to wear. The best budget VR headsets are designed with comfort in mind. More affordable headsets often sacrifice comfort to keep prices low. Ultra-cheap options like Google Cardboard might be easy on the wallet, but they'll be hard on the face.
Look for a VR headset that has ample padding around the eyes and that can be adjusted to fit comfortably. If you plan on watching movies or playing games with a controller, look for a headset with an adjustable strap. Short VR experiences can be enjoyed while holding the headset to your face, but anything longer or interactive is much better hands-free and hands-on with a controller.
Another consideration is how the headset handles your phone. The best budget VR headsets have padding around the edges to prevent your phone from getting scratched. Heat is another consideration. Running VR apps can quickly cause even newer phones to get hot. Simple vents can ward off thermal throttling and keep your games running well.
With all of that in mind, you don't need to break the bank to have a great virtual reality experience. The most immersive games are still found on the most expensive headsets, but there are still great experiences to be had, even if you only have a moderately powerful smartphone. With these tips, you should be able to find the budget VR headset that's right for you and experience the beginnings of what virtual has to offer.
Source: IGN by Chris Coke