No one knows more about petite 'n' poky cars than Suzuki – prepare to let the new Ignis broaden your horizons
MPG: 65.7
Top speed: 106mph
0-62mph: 13.5 seconds
CO2: 97g/km
Awwww! You know that noise you make when you watch a silly video of a dandelion-fluff kitten fighting with a ball of wool? Well, that's the same sound you'll make when you first set eyes on this ditsy, dinky, cutesy little thing from Suzuki. It's the all new Ignis and, though it may look sizable enough in the picture, when you meet it in the flesh you'll giggle. It's tiny: a proper grasshopper. Everything is present and correct, but it's been shrunk – as if it's gone through a boil wash by mistake.
The old Ignis was fairly dismal – a rattly biscuit box on wheels that was last sold a decade ago. Suzuki clearly likes the name so it's stuck with it, but other than that this bright young thing has absolutely nothing in common with the old one. Everything about it is new: new factory, new production line, new design, new tech and new engine. It's a nifty little city car with off-roader looks.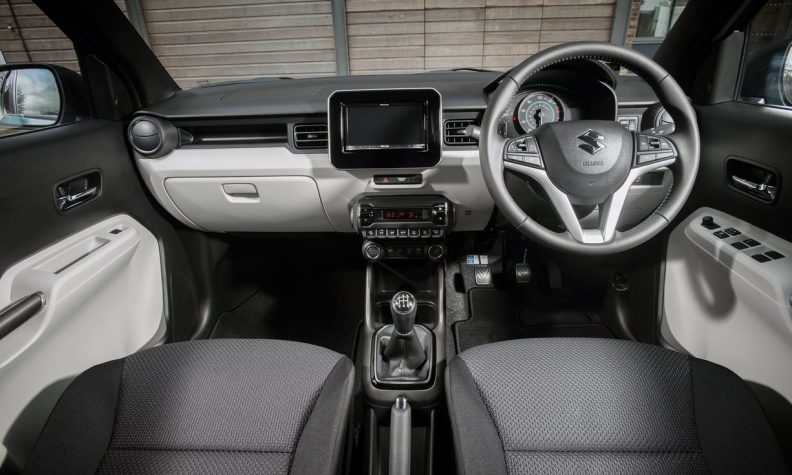 It weighs in at just 810kg, yet it boasts a quite remarkable amount of heft for such a Lilliputian roadprint. As with houses, you can create interior space by building upwards – and that's what Suzuki has done. The Ignis has neat, upright seats that let you sit, knees tucked, as you would at a dining table, and its raised roofline still gives plenty of headroom. My son and his chums are all over 6ft, but even in the back they still had more than a hand's breadth above their heads.
Suzuki is a past master of the bantam car. Ever since launching the Suzulight in 1955 (if you think this is cute, have a look at that one), it has established a reputation as a maker of small cars with big hearts.
On paper the new Ignis may not have an obvious place in the market. But Suzuki hopes its characterful face, tall boxy body and sporty styling will win over buyers from across the motoring spectrum, including cars that you might not think were rivals, such as the Fiat 500, Mini or Nissan Juke.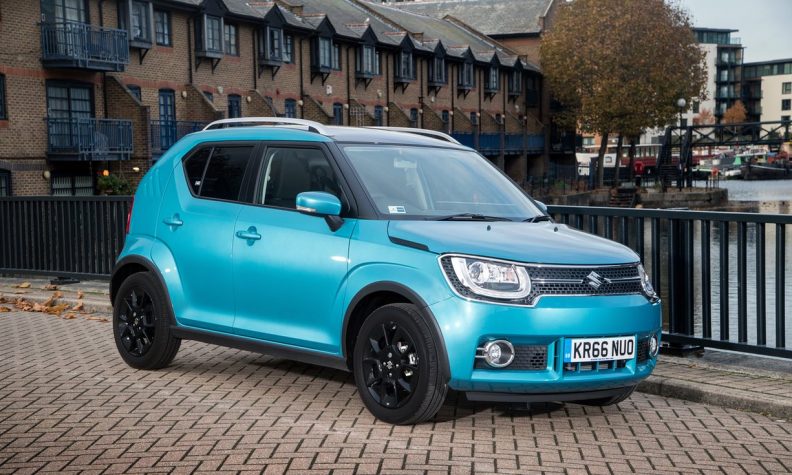 The car is front-engined and only one power plant is on offer – a 90bhp 1.2-litre petrol 4-cylinder Dualjet. You can opt for 2WD or 4WD – Allgrip as Suzuki calls it, but I expect the almost everyone will go for the former. To drive it's a buzz saw. You careen about like a Wacky Racer. It's so small I kept clumsily shoving my feet on the wrong pedals, making the engine shriek and the brakes snap. Slim wheels and fairly basic suspension both add to the feeling that you are clinging to a cartoon character.
The steering is superlight and instantaneous, so the Ignis is great fun to hurl down narrow city alleys or country lanes. Usually the Achilles' heel of most petite cars is the motorway, but the Ignis is a wee battler. I drove 350 miles over a long weekend and it stayed unexpectedly composed and calm on the long haul.
Inside you'll find a generous level of spec: air bags, aircon, DAB radio and Bluetooth (albeit with the fiddliest buttons you've ever seen), plus the option of sliding rear seats, satnav, parking camera and cruise control. Pound for pound, you'll find the Ignis very hard to beat.