The long awaited 2017 Porsche 911 GT2 RS finally revealed in full – say hello to the most extreme 911 yet.
After months of teasers, a prototype ride and an unexpected showing at a video game launch, Porsche's most extreme 991 generation 911 has finally been revealed in full at the Goodwood Festival of Speed. Faithfully following the same template as the original GT2 RS, the latest car has the same wild combination of the most powerful iteration of Porsche's flat-six engine and a track-focused, rear-drive chassis.
The numbers are pretty astonishing, with the GT2 RS producing a maximum power output of 690bhp and 553lb ft of torque from a 911 Turbo S derived 3.8-litre biturbo flat-six engine, some 120bhp more than a Turbo S. The extra power is produced from high output turbochargers, that are cooled by a new water-cooled charge-air cooler, and transferred to the rear wheels via a 7-speed PDK dual-clutch gearbox.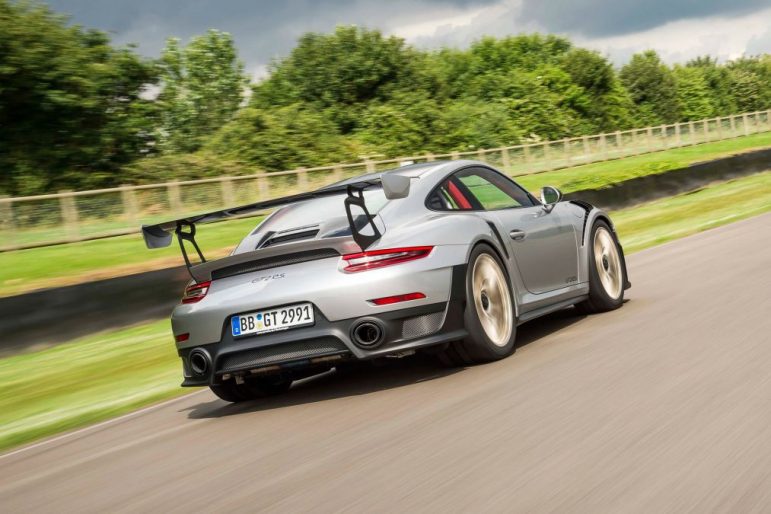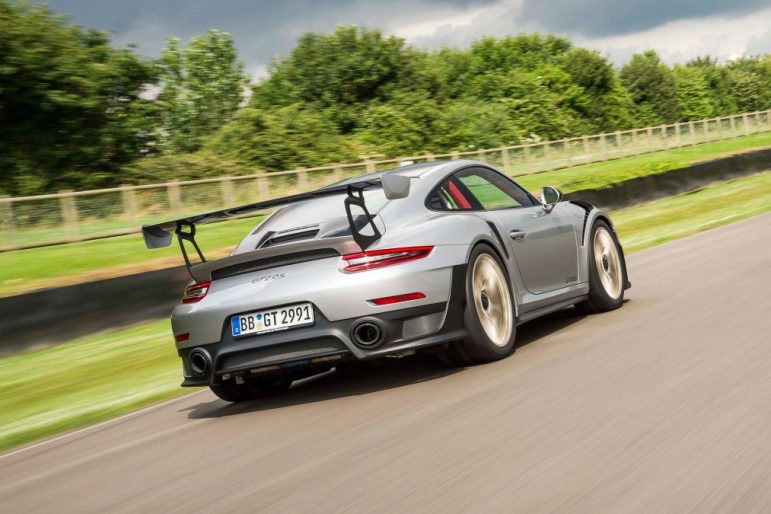 The resulting performance figures are just as insane, with the GT2 RS hitting 62mph in just 2.8 seconds.
Porsche has thrown its whole box of tricks at the chassis too, with rear-wheel steering and a GT2 RS specific Porsche stability management system helping contain the prodigious power. All of this is sent through massive 325 section 21-inch rear tyres. Like the GT3 RS, the GT2 utilises the wider Turbo body, but adds a far more aggressive aero package to the mix, with a huge rear wing and a more aggressive splitter.
The styling modifications have also been extensive, with larger front intakes and bonnet mounted NACA ducts. Front overarch vents mimic the GT3 RS' but have more aggressive raised fins, while at the rear, massive new round exhaust outlets have been connected to a titanium exhaust system, removing an extra 7kg of weight from over the rear axle.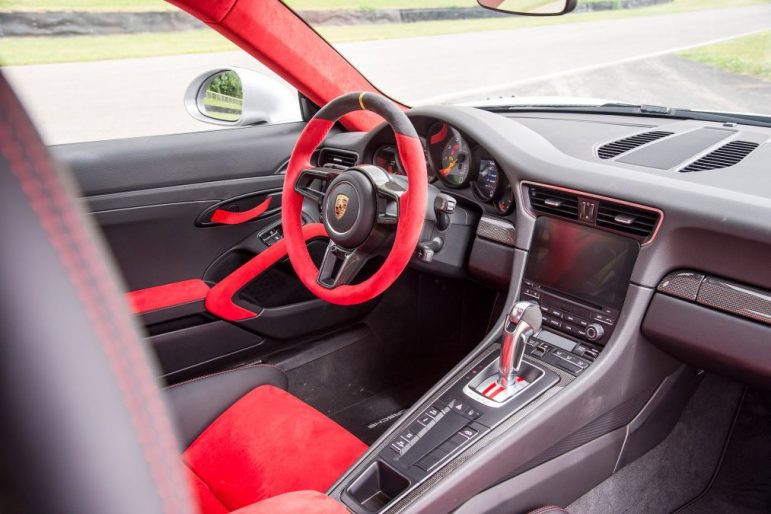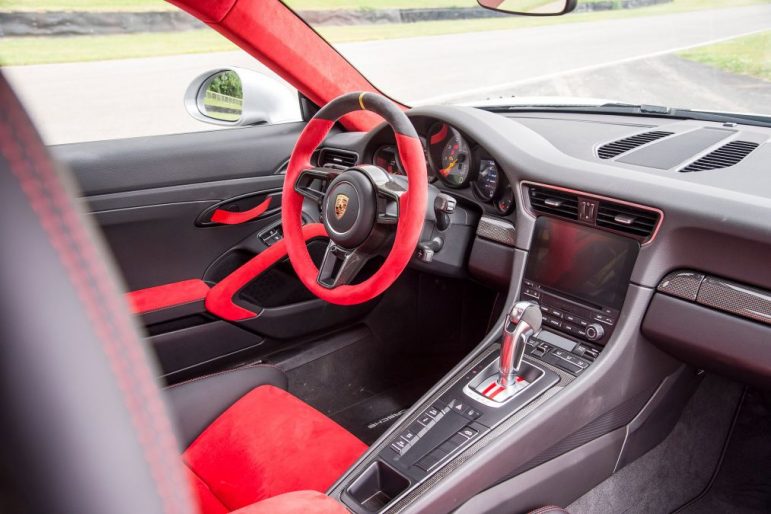 With the aim of further reducing weight, the GT2 RS has a carbonfibre bonnet and CFRP front wings, mirrors, and vent housings, while Porsche's excellent PCCB carbon ceramic brakes are also standard. Kerb weight is rated at 1470kg, putting it only 40kg up on the GT3 RS, despite its extra hardware.
If that figure is still too high, Porsche is offering an optional Weissach package, which like the 918 Spyder, removes an extra 30kg of weight from the standard GT2 RS by fitting extra carbonfibre on the roof, anti-roll bars and coupling rods. The wheels are also the same magnesium set previously found on the 918.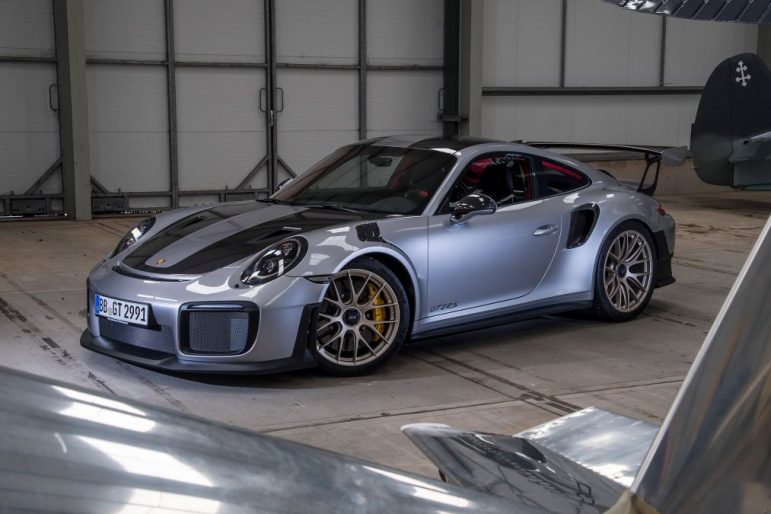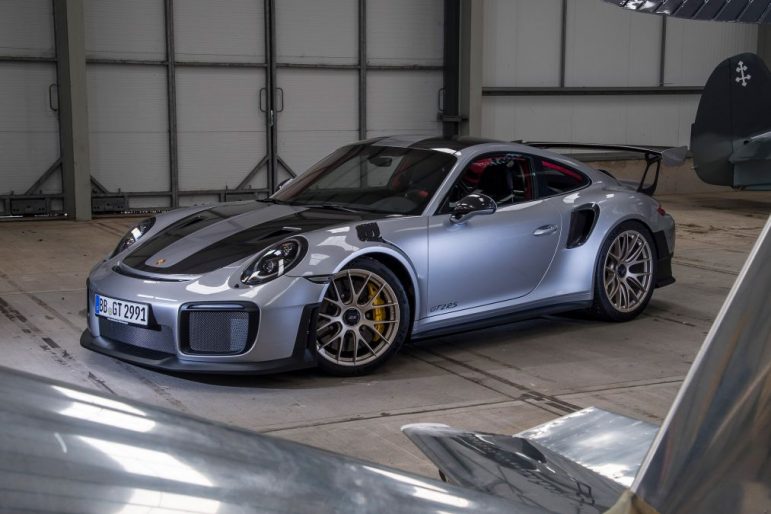 The inside has been informed by the previous GT2 RS too, with red Alcantara on the steering wheel and roof lining. Porsche racing bucket seats are also part upholstered in the stuff, while carbonfibre trim pieces and the GT trademark fabric door pulls also make an appearance. It may be based on a relatively humble sportscar, but Porsche knows how to bring drama to its cabins and the GT2 RS does not disappoint.