Facebook closed its Oculus Story Studio in May, and that seemed like the end for its effort to create virtual reality story experiences such as its award-winning Henry short film. But yesterday, one of those projects came back to life.
That project, which Oculus funded, is Wolves in the Walls. It's an adaptation of a story from Neil Gaiman, creator of comics and books such as The Sandman, Coraline, and American Gods. Edward Saatchi, executive producer of the VR project, said in an interview with GamesBeat that the story will be told in three chapters, with the first one debuting at the Sundance Film Festival in January.
Wolves in the Walls was about 60 percent done when the Oculus Story Studio folded, but Facebook said it would continue to fund VR storytelling projects through third-party relationships, and in this case, Oculus provided the funding to complete Wolves in the Walls.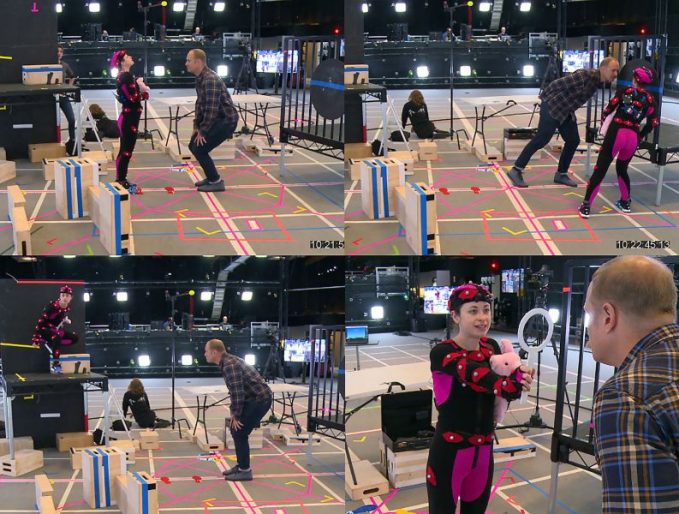 The Oculus Story Studio projects pushed VR storytelling in new directions. Lost put the player in a dark forest, where you hear sounds coming from different directions. When you looked in the direction of the sound, a new part of the story would unfold before your eyes.
Likewise, Saatchi said that Wolves in the Walls would also marry the interactivity of games with the immersiveness of VR. The team created a virtual character named Lucy from the book. She believes there are wolves in the walls of the house, trying to break into it, but her family doesn't believe her. You team up with her to capture evidence of the wolves by taking pictures of them, and you have to work with her to stop them. At one point, you have to hold a door shut as they attack.
Lucy was designed to interact with you, as if she were a real human, Saatchi said.
"We wanted to have an interactive character, with emotional responses to different things in the experience," Saatchi said. "She would remember things you did."
The team liked the project so much that they vowed to keep it going.
"We negotiated a deal to fund the title and keep it going," Saatchi said. "We moved to an office in the Mission [district of San Francisco]. We had faith that Oculus would support it, and they did."
Gaiman participated in the project, and Pete Billington directed it. Third Rail Projects, an immersive theater company, choreographed it and Jessica Shamash was producer, and Saschka Unseld also served as executive producer. The work began just after Henry, which won an Emmy award for VR animated short.
Saatchi said the experience is animated like a children's story, but it has some horror elements that skew it a little older, with a target age range of 11 to 30. Saatchi hopes it will be an important milestone along the way toward establishing VR as the next great entertainment medium.
"The priority has been innovation, exploration, and a touch of risk," Saatchi said. "The medium is in its early stage. It doesn't make sense to churn out Pixar-like movies. We want to do original work that is unique to VR."
Altogether, the story will have three parts, with about a total of a half hour of run time.
This article was originally published by VB.