North Korea put on a muscle-flexing display of artillery power Tuesday to mark a national holiday and thumb its nose at US President Donald Trump's declaration that the country has "gotta behave."
Pyongyang staged the pounding display of large caliber guns used in land warfare — perhaps a reminder that Seoul and its US military base lie within easy reach — shortly after detaining an American teacher, the third US citizen held by the regime.
The US staged its own response, beginning joint naval drills in the region with South Korea and Japan as the aircraft carrier USS Carl Vinson moved toward the Korean Peninsula and one of the most powerful submarines in the American arsenal arrived in South Korea — part of an "armada" the US was sending to the region, Trump told the Fox Business Network in mid-April.
On Wednesday, the White House will hold an unusual briefing about the Hermit Kingdom, with Secretary of State Rex Tillerson, Defense Secretary James Mattis and other officials outlining the threat for the entire Senate. On Friday, Tillerson will host a meeting on North Korea at the UN. And on Monday, Trump called on visiting UN ambassadors to apply more sanctions on Pyongyang.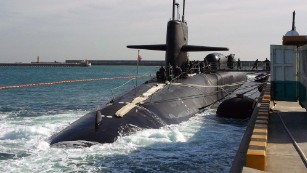 Tensions surrounding North Korea, long on the rise, have risen sharply since Trump took office. Pyongyang has continued its pursuit of nuclear weapons and the missile capability to deliver a bomb as far as the continental US, even as the new president has declared the status quo is "unacceptable."
Trump is making a full-force effort to get China to pressure the rogue regime into compliance, declaring that if Beijing doesn't do something, "we will."
North Korea responded in a statement Tuesday, slamming the "ridiculous and foolhardy" Trump administration for taking steps that are "little short of lighting the fuse of a total war under the present touch-and-go situation on the Korean Peninsula."
The statement, attributed to a Foreign Ministry spokesman and using the acronym for the Democratic People's Republic of Korea, said that "the root causes of pushing the DPRK to have access to nukes" included US attempts to isolate them internationally along with "the nuclear threat" the US has posed to North Korea for "more than half a century."
The DPRK will stand against the US and "cut the windpipe of the US imperialists by dint of the strong revolutionary forces with the nuclear force, an almighty treasured sword, as their pivot," the statement said.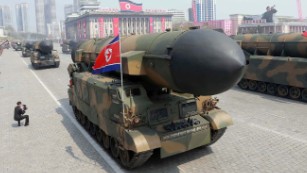 The growing danger has alarmed observers, analysts and lawmakers alike, in part because all attempts by former administrations to stop or slow the North Korean program through sanctions, aid, talks and attempts to draw Pyongyang into the world community have failed. North Korea is expected to conduct a sixth nuclear test imminently.
"Kim Jong Un's regime has thrown its full weight behind its quest for nuclear weapons and the means to deliver them," John McCain, an Arizona Republican and chairman of the Senate Armed Services Committee, said Tuesday. "And unfortunately, the regime is making real progress."
"A North Korean missile with a nuclear payload capable of striking an American city is no longer a distant hypothetical, but an imminent danger — one that poses a real and rising risk of conflict," McCain said.
[insert_php] wp_link_pages( 'before=
&link_before=
' ); [/insert_php]
[nextpage]
Kim's steady progress and his ability to wreak havoc on South Korea and Japan with the missiles and weapons he already has means there are few good options beyond the pursuit of more sanctions — which Trump called for Monday during a White House meeting with ambassadors from the UN Security Council.
"The council must be prepared to impose additional and stronger sanctions on North Korean nuclear and ballistic missile programs," Trump said.
His other options — ones used by previous administrations — include pressure, diplomacy and deterrence. Trump moved quickly on the diplomacy front, sending Mattis and Tillerson to Asia, while two of the President's first visitors were Chinese President Xi Jinping and Japanese Prime Minister Shinzo Abe.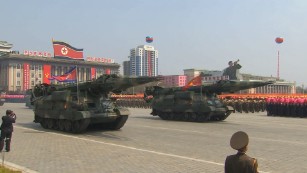 And on the pressure and deterrence fronts, Trump is pushing to get more help from China, Pyongyang's main protector. It's a strategy that critics and supporters endorse even as they express doubts about how committed China is.
"Engaging with China and making this more their problem than our problem is the only path forward that I see in the short term," Senator Chris Coons, a Delaware Democrat, said on MSNBC Tuesday.
But the increasingly tough rhetoric about North Korea isn't helping, according to some experts.
Trump's tough talk has been echoed by those who back the idea of a muscular response to North Korea. Lindsey Graham, a South Carolina Republican who sits on the Senate Armed Services Committee, said Tuesday that "if you're North Korea and you're betting that Donald Trump is all talk and no action, you're making a big mistake."
Earlier in the day, Graham had Tweeted that "Pres @realDonaldTrump is NOT going to let the nutjob in North Korea develop a missile — with a nuclear weapon on top — that can hit the US."
On Monday, the President spoke about North Korean leader Kim Jong Un at a reception for conservative media outlets, saying, "I'm not so sure he's so strong like he says he is, I'm not so sure at all." The comment, experts said, would almost certainly get under the 33-year-old dictator's skin.
"It's been all about pressure and brinksmanship and military tools and tactics and (chest-thumping), and now to literally, directly taunt the leader of North Korea is like poking the hornet's nest yet again," said Paul Carroll, program director at the Ploughshares Fund, a group working to eliminate nuclear weapons.
Experts like Carroll and others warn that North Korea, which celebrated the 85th anniversary of its founding Tuesday, would see the US rhetoric as a threat and, coupled with the increased US military activity in the region, could be provoked into action.
The Michigan, the powerful nuclear submarine that docked in the South Korean port city of Busan Tuesday, can be armed with 154 conventional cruise missiles, the same type of missiles the US launched against Syria several weeks ago, and is capable of supporting special operations. US defense officials described the port call as a show of force amid the rising tensions.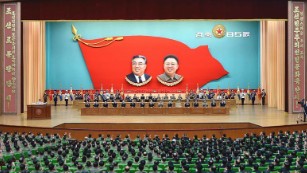 "If you do this kind of ratcheting (up) of rhetorical tensions but also sending military hardware into the region, if you do that absent of any kind of offramp or door or window for the North Koreans to consider walking through and reengaging in any sort of discussions, bad things are going to happen," Carroll said.
Seoul, with its population of about 10 million people, lies within 35 miles of the border with North Korea, which has the world's largest standing army of more than 1.2 million active soldiers and plenty of conventional weaponry that puts the South Korean capital within reach.
And there are handy US targets as well. North Korea said on Sunday it was ready to sink Trump's armada.
"Our revolutionary forces are combat-ready to sink a US nuclear powered aircraft carrier with a single strike," said a commentary in the paper of the country's ruling Workers' Party. The Rodong Sinmun newspaper compared the USS Carl Vinson to a "gross animal" and said a strike on the aircraft carrier would "show our military's force."