Nike's latest collaboration with Apple could be the fitness tracker to beat.
I've been running with Nike for about a decade—and I'm not talking about wearing their shoes or shirts.
This review is about the Beaverton, Ore.-based company's gadgets, a world I've personally been immersed in for nearly a decade. Back in 2006, Nike NKE 0.25% first partnered with electronics giant Apple AAPL -0.66% to sell the co-branded Nike+ iPod Sport Kit, which was a wireless system that provided connectivity between a sensor that could be inserted in footwear and Apple's pre-iPhone devices. Nike later struck out on its own for a few years starting in early 2012, selling activity trackers under the FuelBand brand, a business Nike scrapped in 2014.
Today, Nike and Apple are officially running partners again. Friday marks the official release of the Apple Watch Nike+, a sports-focused smartwatch with a starting retail price of $369.
Unlike most fitness-based systems on the market today, this device has the ability to track numerous movements: running, biking, yoga, class-based fitness sessions, weights, or a rowing machine. A built-in GPS allows runners to track their workouts without carrying their smartphone—the initial Apple Watch required you to bring along your iPhone for those runs to "count."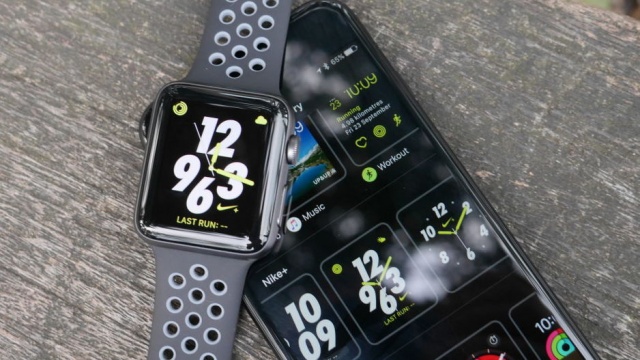 Apple aimed to address three of the most-requested features they heard from folks after releasing the original Apple Watch last year. Users wanted the smartwatch to track runs without a phone, they wanted it to be waterproof, and they wanted a brighter display.
All three upgrades are in the new device. Apple Watch Nike+ also features "activity rings," separately monitoring moving, exercise, and standing. Moving is just general everyday movement, while exercise would track strenuous activities or even a brisk walk. The stand ring encourages movement at least once per hour each day. And you can't just stand for 12 minutes a day—you need to stand 12 different times throughout the day for credit.
For serious runners like myself, there's also encouragement in the running app to get back outside for a workout. That could come from a prompt to go out "Just Do It Sundays," a weekly call to go out and run a 5K (3.1 miles). Or perhaps a notification that Rachel King, an editor here at Fortune and fellow runner, is just 2.1 miles ahead of me for the month.
"We wanted to focus on running and create the best partner for you if you are picking up running," Stefan Olander, vice president of Global Digital Innovation at Nike, tells Fortune in an interview.
I took the device for a spin in the SoHo neighborhood in Manhattan and along the Hudson River along the west side of the island. While out with a Nike trainer, I got prompts each mile, reminding me of my overall time and pace. I also got encouragement when I breezed past the 5K goal I set for myself.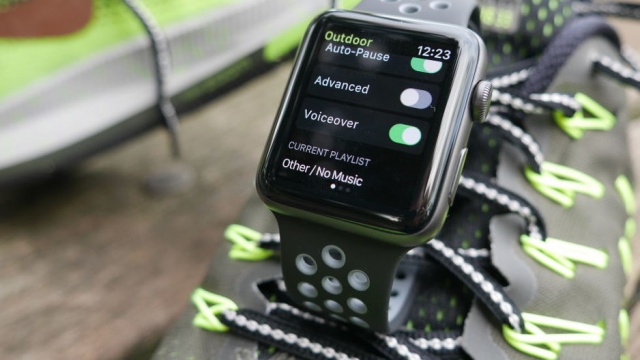 But what impresses me most about the device is that it is cross-training friendly. Millennials like myself are increasingly allured by class-based fitness like cycling or yoga Most traditional fitness trackers don't count those movements, so it feels like you aren't getting the complete picture of your weekly athleticism if your device isn't counting those movements. The Apple Watch Nike+ addresses that and works in the pool too, addressing a weak spot for most activity trackers that are merely water resistant and not meant for use during a rigorous swim.
There's also an active element to this device that seems appealing. Many trackers in the health space monitor steps, heart rate, sleep, and few additional bells and whistles. Getting text messages and Instagram notifications makes the device more alluring. That more active relationship with the device could address a common criticism that the industry has faced: findings that suggest these gadgets don't help people lose weight.
The launch of the Apple Watch Nike+ also comes at a time when there are questions about the viability of the smartwatch market. Is it a category that can find mass appeal? Experts aren't sold yet.
Nike itself was in the business of making fitness trackers for a few years, launching a few FuelBand devices I also tested. I must confess that while the FuelBand seemed great at the time, Apple Watch Nike+ is superior. My main concern is that I worry that it could track too much information to become a bit overwhelming for users.
As it often happens when chatting with Nike executives, the conversation turned back to running.
"Our main focus is the world's best running experience," he says. "We wanted it to be rooted in running and nail running first."
That makes sense for a company that generates over $5 billion in running gear revenue annually from wholesale channels, the second-largest business segment after sportswear. For Nike to sprint ahead of the pack, it needed to evolve. Apple Watch Nike+ is a step in the right direction.