The new feature will be on display at the Petersen Automotive Museum next year.
The Petersen Automotive Museum in Los Angeles, along with Ford Performance and Microsoft, have teamed up for a new interactive experience, giving museum guests a unique look at the Ford GT. The new 'An American Supercar' exhibit is making its debut at the Los Angeles motor show, before moving to the museum where it will feature until autumn 2018.
The exhibit incorporates the museum's 1967 GT40 Mark III and the 2017 GT (the museum currently has an example of all three generations of the GT) and Microsoft HoloLens technology. Using virtual reality headsets, HoloLens overlays holographic images over the cars, allowing guests to pull apart the cars and look inside in a way never seen before. They'll also get a look at the track history of both racing-bred cars in an experience that blends real and virtual together effortlessly.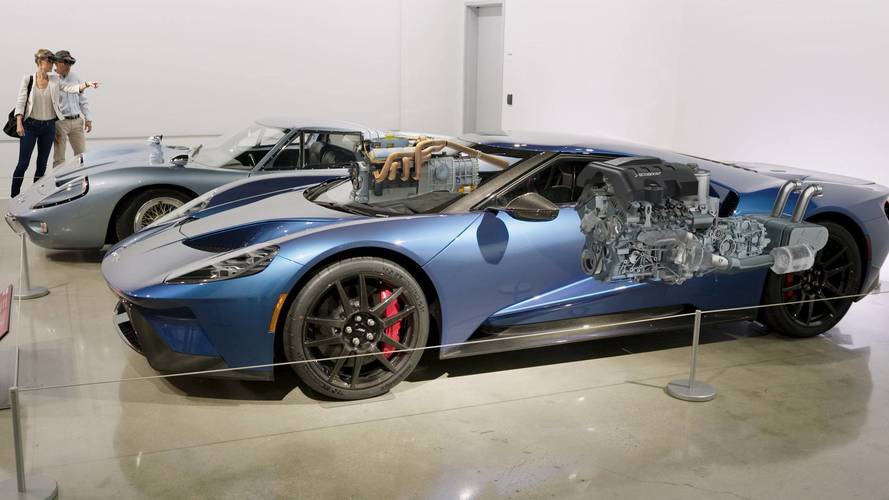 'Our compelling new HoloLens experience will be a wonderful addition to the museum, as we set out to include more interactive displays to enhance our storytelling capabilities,' said Petersen executive director Terry L Karges. 'We are inspired by Microsoft's innovation and wanted to include an experience for our guests that will meld Ford's incredible racing history with a progressive new technology.'
The original GT, dubbed the GT40 thanks to its tiny size — it's a mere 40 inches in height — was developed to race at the Le Mans 24 Hours. It won on its third attempt in 1966, with Bruce McLaren and Chris Amon leading home a one-two-three finish for the car.
The feat was repeated 50 years later, with the reimagined GT winning the LMGTE Pro class at the 2016 edition of the round-the-clock classic in the hands of Joey Hand, Dirk Müller and Sébastien Bourdais.
'The Ford GT is not only a racing legend, it is a rolling laboratory where our engineers can push the boundaries for new technologies that could be developed for other Ford vehicles one day,' said Henry Ford III, global marketing manager for Ford Performance. 'The Microsoft HoloLens Ford GT experience at the Petersen Museum is the perfect way to bring that story to life since our designers plan to use this mixed reality technology to create even better looking cars quicker and more collaboratively.'
This article was originally published by Motor1.