An Australian physicist is leading a push to pioneer a new type of low-cost solar energy he believes could make signing up for energy accounts as straightforward as signing up for a mobile phone plan.
University of Newcastle Physicist, Professor Paul Dastoor, and his team of 30 researchers are already well known for designing revolutionary devices such as solar paint and needle-free glucose tests, And with their innovations, they are at the forefront of the emerging field of organic electronics.
According to Professor Dastoor, "Organic electronics deals with carbon-based electronic materials that are soluble in a variety of liquids. This makes them able to be dissolved into solutions, which can be printed, painted or sprayed onto different surfaces whilst still being able to conduct electrical charges."
Now, Dastoor and his team have created a new way of producing solar power – called Printed Solar. This innovative technology has been 15 years in the making and consists of organic printed solar cells that are electronic inks printed onto sub-millimeter thin plastic sheets using conventional ink-jet printers.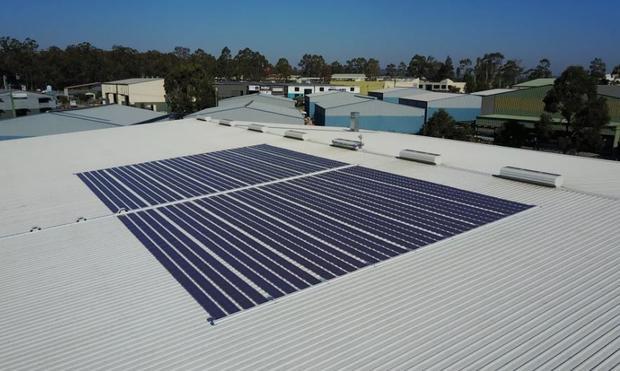 The ultra-thin strips, similar in texture to a potato chip bag are held down with double-sided sticky tape and can be produced for less than $10 per square meter (10.7 square feet).
A collaboration between science and industry
Beresfield-based logistics company CHEP is having the Printed Solar installed on a pallet-repair facility, becoming the "historic first partner" in exploring the new technology and its future potential.
"This is the first commercial uptake of printed solar in Australia, most likely the world. It's an historic step in the evolution of this technology and another example of private enterprise and community leading the charge in the adoption of renewables," Professor Dastoor said.
"Our printed solar cells are now considered to be at the top of the technology readiness tree," says Professor Dastoor. "Those working in technology development use a NASA developed Technology Readiness Level or 'TRL' system to determine how evolved our solutions are, with 1 being the lowest and 9 the highest. We are now rated TRL 8 and essentially considered 'green-lit'."
And the commercial installation going on now comes just a year after the team's highly celebrated, Australian first, lab-scale demonstration of printed solar. "We learned a lot from our first test site and, in a very short space of time, have produced a far superior second iteration, dramatically improving the system's aesthetics, our installation method and most importantly cell efficiency," Professor Dastoor said.
"In a fractured and uncertain #energy policy landscape, this new technology is a clear illustration of the value of taking power into one's own hands" – Professor Paul Dastoor. https://t.co/d4ilXw02GO

— UONnews (@Uni_Newcastle) August 29, 2018
CHEP Asia-Pacific President, Mr. Phillip Austin, said the partnership highlighted how private enterprise and science can and need to unite to solve these global problems.
"The drivers for working with Professor Dastoor's team were twofold – the chance to steward this emerging renewable energy technology to implementation and the opportunity to make our circular 'share and reuse' business model even more sustainable," said Austin.
There are a number of advantages to this new technology, one being that a typical installation can be done in one day, and it is relatively cheap, compared to what is available today. Secondly, this technology, as it is today, won't last very long simply because it will improve rapidly, says Professor Dastoor.
The only drawback today is that the printed solar panels only have a lifetime of about six months, but that will change, too, as the technology improves. The best thing about it is the fact it is here, and it will improve.