A radical new approach to 6-DoF MR and VR powered by your smartphone. Includes two fully-tracked controllers and a Unity plugin.
Story
All-new ZapBox is a revolutionary step in Zappar's mission to bring affordable Mixed Reality to the mass market. ZapBox enables content creators and developers to build truly immersive, 6-DoF Mixed Reality (MR) and Virtual Reality (VR) experiences at an unrivaled price point of just $40.
ZapBox has been completely re-imagined and re-designed from the previous exploratory cardboard iterations of the product to offer a greatly improved experience and a form factor suitable for the mass market whilst maintaining an unprecedented price point.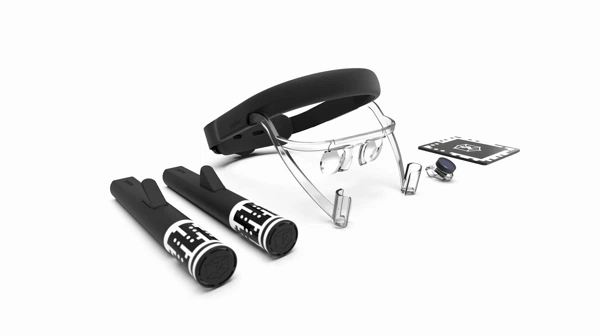 All-new ZapBox includes a radical new headset designed from the ground up to deliver immersive MR and VR experiences using existing smartphones. The headset offers an almost uninterrupted peripheral view of the real world that naturally blends into the immersive content displayed in front of the user in 3D. The video-see through the setup for MR allows for fully opaque content and true blacks, whilst the direct peripheral vision keeps users feeling well-connected to the real world. A pair of 6-DoF controllers are also included to provide physical and intuitive interactions, along with an ultra-wide camera adapter that delivers more immersive MR experiences and improves the range of controller tracking.
A Unity plugin will enable developers to build native iOS or Android apps with their own ZapBox content. Content can also be created with Zappar's dedicated ZapWorks Studio tool and viewed instantly in the ZapBox app.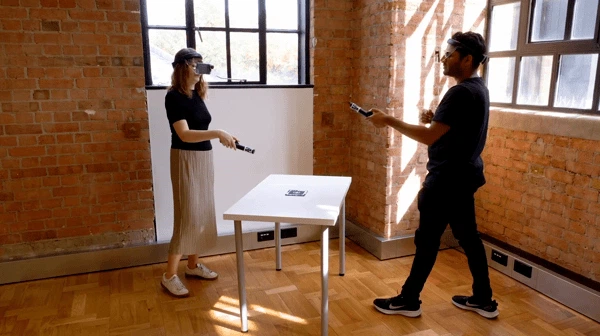 Headset
The patent-pending open headset is light, comfortable, and easily adjustable, and maintains as much peripheral vision as possible. The new headset is perfect for Mixed Reality experiences but also transforms VR with friends into a more social experience. You won't feel cut off from the world, but part of it.
New lens shape
The innovative frameless lenses allow your peripheral vision outside the phone screen to blend almost seamlessly into the content shown on-screen, without the edge of the phone is visible.
Live-hinged phone grips
The new live-hinged phone grips ensure your phone is held securely and centrally in place for the optimal stereoscopic experience, supporting a wide range of different device sizes, makes, and models. It's quick and easy to insert your smartphone and adjust the headset for a secure and comfortable fit, and it can be used easily in combination with glasses.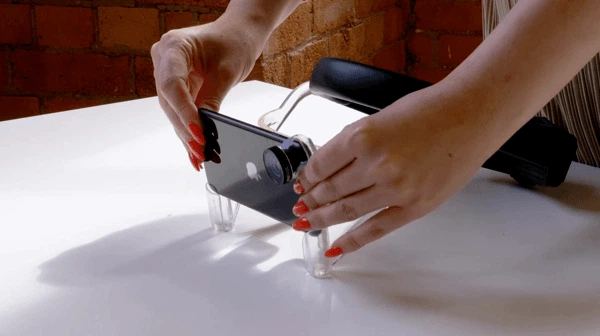 Reinvented Controllers
The all-new ZapBox controllers feature a streamlined profile to give precise control without getting in the way, along with an analog trigger for natural interactions.
Robust world tracking
The new world anchors provide instant content placement and drift-free tracking, and other natural visual features in your environment are used for ultimate tracking stability.
Camera Adaptor
Finally, the ultra-wide camera adaptor delivers more immersive MR experiences and improves the range of controller tracking. The custom-designed lens clips provide accurate and consistent placement across different smartphones without obscuring the screen.
We want even more developers to be able to build content for ZapBox. Thanks to Unity's new XR plugin framework we will be able to expose ZapBox support to the Unity developer community for the first time ever.
With the ZapBox SDK for Unity, developers will be able to build native apps for ZapBox that can be published directly to the iOS and Android app stores. Thanks to the modular nature of Unity's XR tech stack, existing content built using Unity's platform-agnostic XR Interaction Toolkit can be brought to ZapBox with minimal additional developer effort.
The Unity plugin will support our original cardboard ZapBox products along with all-new ZapBox. The Developer Bundle pledges will provide early access to beta versions of the ZapBox SDK for Unity and original cardboard ZapBoxes so developers will be able to get a head start on bringing their content to ZapBox.
Unity's great support for multi-player experiences combined with the unmatched affordability and capability of ZapBox offers really interesting possibilities for collaborative content, whether that be physically co-located or with remote users. We're really excited to explore these possibilities ourselves and to see what the awesome Unity developer community will create for ZapBox!
 Content shown: XR Interaction Examples copyright © 2019 Unity Technologies ApS
ZapBox experiences can also be created in our advanced visual editor ZapWorks Studio which allows content to be positioned and animated and includes an integrated Javascript-based API so developers can add rich interactivity to their content.
If you've ever developed in Javascript, or you are just keen to learn, ZapBox and ZapWorks is a perfect fit. Your experiences can be viewed instantly in the ZapBox app, avoiding the need to build and submit native apps.
All of our existing ZapBox Mixed Reality content will be available with all-new ZapBox, and we'll also be working to bring further content to ZapBox. We'll be working on a "ZapBrush" app for painting in MR and VR, and an easy way to view your 3D models in ZapBox.
The headset can also be used to view the great selection of content and apps designed for Google Cardboard that are available on the app stores – we find it's a particularly comfortable way to enjoy VR video content.

You'll need a smartphone to use ZapBox.
For iOS users it's really simple – any iPhone from the iPhone 6 onwards will work, excluding the first-gen iPhone SE (2016) as the screen size is a bit too small. The new iPhone SE 2020 works great with ZapBox.
For Android, our development is focussed towards offering the best possible experience on the Samsung Galaxy S8 and later S-series devices, and Google Pixel 2, 3, and 4. We're expecting to be able to add the Pixel 4A to that list once we are able to get our hands on one to try it out.
Many other Android devices should work well too but we'll be unable to verify and optimize them all individually – for best results your device should be on the higher-end of the performance spectrum, have a gyroscope sensor, and expose a 60FPS camera mode with manual exposure control through the standard Android camera API that apps are able to access.
In terms of device size, the vast majority of devices will fit into the phone grips thanks to the live-hinged design. Ideally your device should be between 135mm and 160mm in height when held in portrait. This range covers most devices, including all variants and sizes of iPhones since they bumped up the screen size with the iPhone 6 (excluding the first-gen (2016) SE which retained the small 4-inch display).
Extremely tall devices (over 165mm in height) are not recommended.
All-new ZapBox will feature a brand new approach to visual tracking for both the controllers and world anchors, designed to offer even better performance and tracking quality than we achieved with original ZapBox.
The patent-pending D3 (dot-dot-dash) markers on both the controllers and the world anchors are designed to offer improved tracking quality and enable more efficient algorithms for detection and tracking, so smooth performance can be maintained and more of your device's processing power can be dedicated towards rendering great content.
World tracking will use a combination of world anchors, motion sensors in your device, and other visual features in your environment to offer really robust tracking whilst making set-up super-simple. All-new ZapBox will offer high-quality, drift-free tracking with far fewer world anchors than the previous iterations.
Founded in 2011, Zappar is on a mission to democratize AR, VR and MR. We empower the next generation of digital developers and content creators to build great experiences for handheld devices and headsets using our proprietary technology, software and tools. We also have an in-house studio team producing content experiences for some of the world's biggest brands.
Back in 2016, we launched the first affordable Mixed Reality kit here on Kickstarter –  made of cardboard, it allowed developers and consumers alike to get started creating and experiencing fully-tracked, room-scale MR without the huge price tag of other products. We built a passionate community of developers and raised more than 280% of our funding goal.
We followed the original Kickstarter product with a flat-pack version to offer more affordable shipping in 2018.
We had a great response to the initial cardboard iterations of ZapBox, but we felt we'd reached the limits of what could be achieved with a cardboard product. That got us thinking with a clean sheet of paper about how we could level up the entire experience and product whilst keeping true to the philosophy that inspired the original ZapBox idea all those years ago: Combining simple physical components with existing smartphones to offer a way to experience the thrill of 6-DoF immersive MR and VR content at a super-affordable price.
After years of development and discussion, it's amazing to be able to finally share what we've been working on with the world in the shape of all-new ZapBox.
This article was originally published on KICKSTARTER.