Nice kitty! Jaguar's new F-Type 400 Sport is as ferocious as it is nimble
The Jaguar F-Type has been around since 2013 as Jag's halo sports car. It's fast, sexy, expensive, and pretty much has everything you want in a performance two-seater. To keep the F-Type fresh, Jag keeps coming up with new models and features, so now there are 24 different ways to order an F-Type. It's even got a four-cylinder model coming this year.
But to its credit, Jaguar's new variations on the F-Type theme are real and different models, with nary a paint-and-stickers special edition to be found. You can get your F-Type with a fixed roof or a ragtop, with a God-fearing stick shift or a smooth eight-speed automatic. And now you can pick from four, six, or eight cylinders and horsepower ranging from 300 to 575.
What's new
The latest twist on the F-Type platform is the 400 Sport. This model uses a juiced-up version of the same 3.0-liter supercharged V6 as the 340 and 380 horsepower versions, but boosted to produce 400 horsepower and 339 pound-feet of torque. The 400 Sport comes only with the eight-speed automatic transmission with driving modes and paddle shifters, but you have your choice of rear-wheel or all-wheel-drive.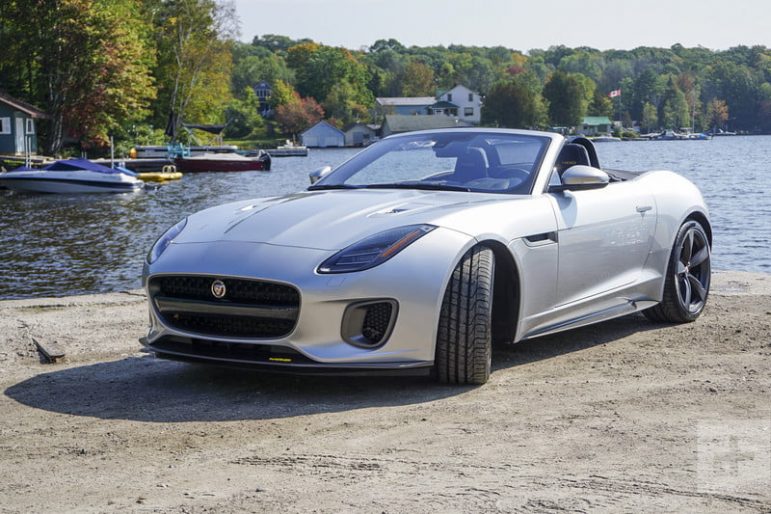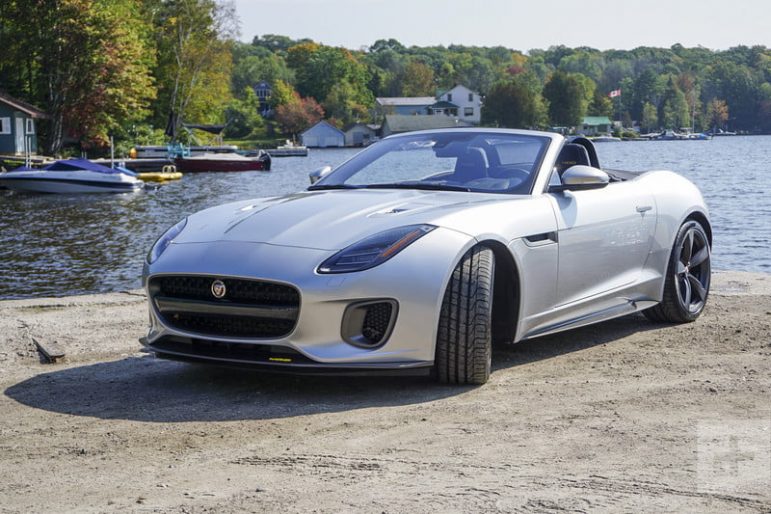 The 400 Sport package also includes upgraded brakes, which Jaguar calls "Super Performance" and a set of 20-inch wheels unique to this model. The front brakes are 380mm and the rears are barely smaller at 376mm. On top of that, you get "Configurable Dynamics" driving modes that change the shock damping, steering, throttle, and shifting behavior, so you can set the 400 Sport to predefined settings for comfort or sportier driving, or dive in and create your own custom settings.
Trim levels and features
The 400 Sport trim offers a reasonable set of choices. You are limited to a monochrome paint color, which we find unfortunate. Black, silver, or white is what you get, with yellow and gray badges, and yellow top-stitching in the cabin. And there's a nifty front splitter and rear diffuser to complete the visual package.
But the more important choices are yours to make. You can choose a coupe or a convertible, and rear- or all-wheel-drive. Once you get in the 400 Sport and start driving, I suspect you won't care about the outside color.
Other items that come with the 400 Sport package include adaptive LED headlights, which change the shape of the beam based on your speed, and LED rear light clusters as well.
Technology overview
The F-Type 400 Sport comes with Jaguar's latest technology setup. That means a Touch Pro interface with an eight-inch touch screen and a fast 60GB solid-state drive. You can customize your in-car desktop, and the F-Type comes with navigation. Tablet gestures are supported. The basic Meridian 10-speaker sound system is good and of course you can always spring for the 12-speaker surround sound upgrade.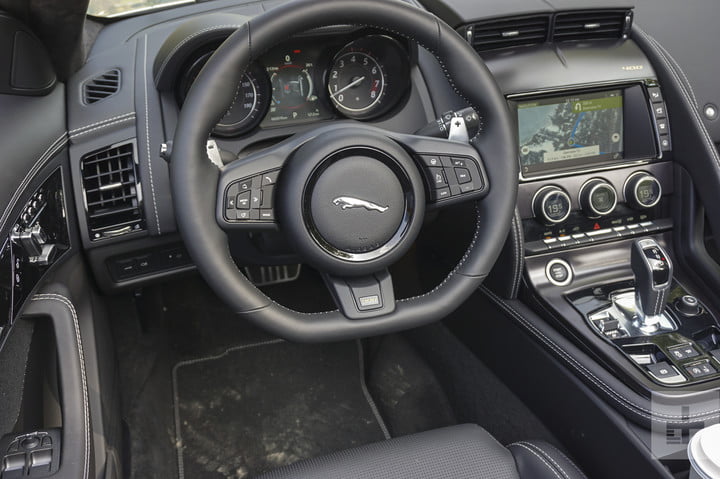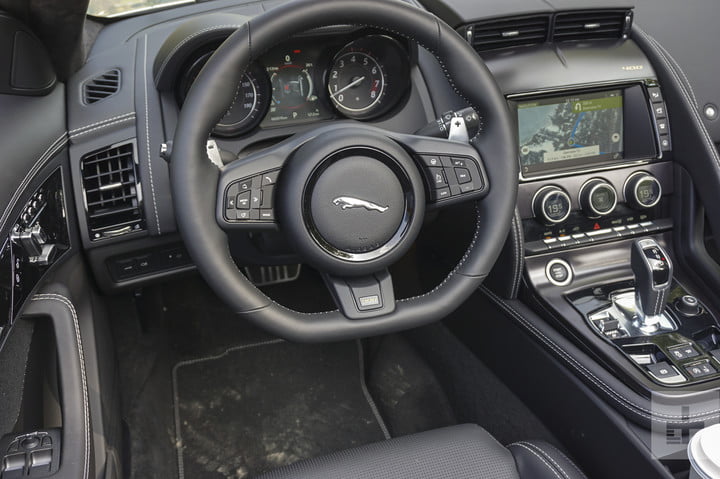 Perhaps more interesting to the track-day crowd is the GoPro ReRun feature. This allows you to shoot dash-cam video with your GoPro and then overlay driving data such as throttle position, brake force, steering wheel angle, gear selection, speed, and g-forces. The footage is editable, and GoPro will give you a highlight reel. It's all designed for easy upload to social media. However, in most cases the GoPro will show that you're not nearly as fast nor as brave as you like to think you are.
Interior fit and finish
Jaguar has updated the interior of the F-Type for 2018, and it's very comfortable. The seats have a new slimline design that really works. Of course, they're 12-way power-adjustable including lumbar support. The seats are both heated and ventilated. With all that, the new seats still weigh in about 16 pounds less than the old seats. They even have magnesium frames.
As mentioned, you get yellow contrast top-stitching in the 400 Sport, and that looks good. The sill plates and center console are trimmed in brushed aluminum.
Driving performance and MPG
The driving experience is really what sets the 400 Sport apart from the other F-Type models. First, the numbers: 0 to 60 in 4.8 seconds and a top speed of 171 mph. To compare, the 575-horsepower SVR model does 0 to 60 in 3.5 seconds, while the current 340-horsepower V6 F-Type does it in 5.1 seconds, or 5.5 with the manual.
But what the numbers don't tell you is that the 400 Sport is an eager-revving grin machine. The V8 F-Types are supreme torque monsters, while the 400 Sport feels like a lightweight sports car should feel. Drop the shifter into Sport mode or use the paddles to hold a gear and the 400 Sport will cheerfully scream its way to redline with all the power you want, under perfect control. This car is a dancer, not a weight lifter.
At press time, the EPA had not passed judgment on the fuel economy of the 400 Sport, but the other V6 models get around 18-20 mpg city and 26-28 mpg highway, give or take (mostly take) a bit for coupe or convertible, AWD, and manual transmission. But honestly, fuel economy will be the farthest thing from your mind on a nice day with the top down in this Jag.
Conclusion
The 2018 Jaguar F-Type 400 Sport sits right in the middle of the price range for the F-Type. When the four-cylinder version comes out, it's supposed to carry a pre-destination sticker price of $59,900. The V6 models start at $68,000 (pre-fee) and the 400 Sport will cost you $89,500, plus $995 for destination and handling. The supercharged V8s top out at $121,900, for comparison.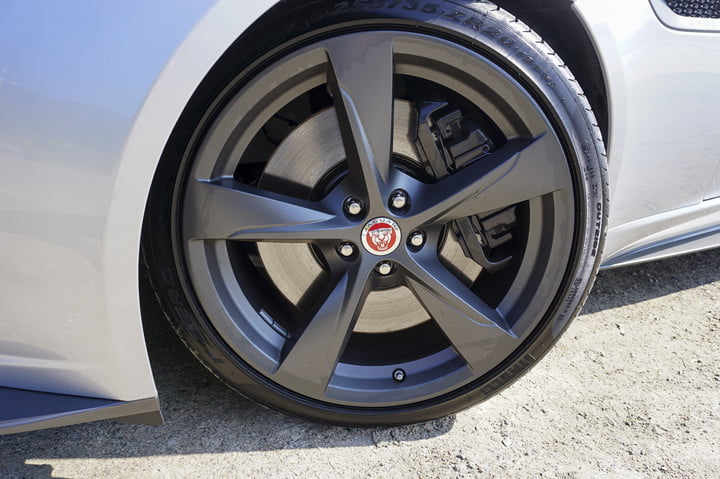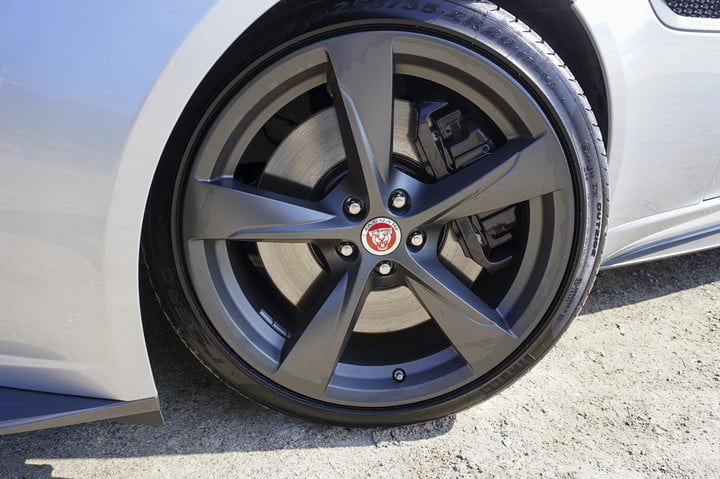 The 400 Sport is definitely a driving enthusiast's car. It sits right in the sweet spot that experienced sports car lovers know very well. It's not the most powerful engine you can buy, but it's got enough power and it's got the brake and suspension upgrades. It's got enough luxury touches to be comfortable, but it's not a boulevard cruiser. Finally, it's a lot less money than the super hot rod. For what it's worth, if I was choosing an F-Type to drive every day, I'd get a convertible AWD 400 Sport, and I'd never look back.
One final caveat: if you want a 400 Sport, you need to start your planning. Although Jag didn't mention any production limits, the model is supposed to be made for only one year. When the 2019s come out, there will be something else to take its place.
Reference: DIGITAL TRENDS