A photograph tweeted out by White House press secretary Sean Spicer has given the world a look inside Donald Trump's Mar-a-Lago "situation room".
The president was at his Florida resort for talks with the Chinese president Xi Jinping when he gave approval for the launch of Tomahawk missiles aimed at one of Bashar al-Assad's airbases in Syria.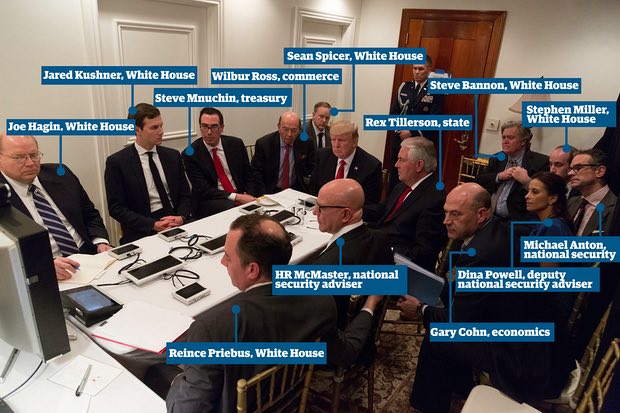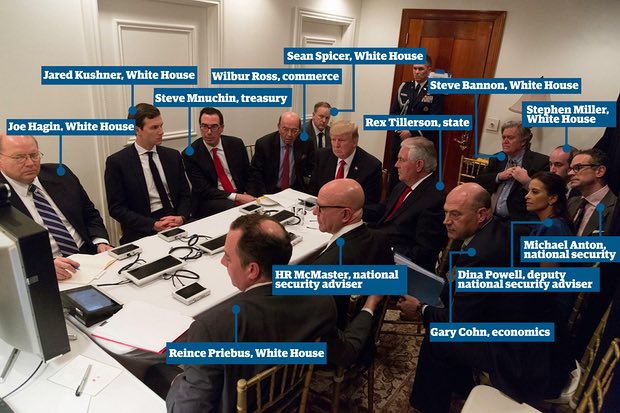 After dinner on Thursday night, he crammed around a small table in the resort's reportedly "freshly constructed" secure room for a briefing on the progress of the strike.
The image, released by Spicer on Friday, shows Trump sitting at a table with secretary of state Rex Tillerson, commerce secretary Wilbur Ross, national security adviser HR McMaster, chief of staff Reince Priebus, special adviser and son-in-law Jared Kushner and others. Sitting on the sidelines is adviser Steve Bannon, Stephen Miller and the sole woman in the group, deputy national security advisor Dina Powell. Spicer is also in shot, sitting alone in the corner, near the door.
The group was reportedly looking at a secure video feed of defence secretary Jim Mattis, vice president Mike Pence and others telling Trump that 58 of the 59 rockets launched had hit their targets.
The image of Trump and his team was instantly likened to the photograph of Barack Obama, Hillary Clinton, Joe Biden and others watching the raid that killed Osama bin Laden.