Specialist Hilda Clayton dies after a mortar tube explodes in front of her lens during a training exercise
The US Army has released images captured by a combat photographer of the explosion that killed her.
Specialist Hilda Clayton, 22, died when a mortar tube blew up in front of her during a training exercise in Afghanistan.
She was alongside a trainee photographer and Afghan soldiers when the accidental explosion took place in July 2013.
A total of five people died in the blast, which also marked the first death of an Army combat documentation and production specialist in Afghanistan, according to the Army Times.
The photographs taken through her lens were published in the Army's Military Review Journal after her family and unit both provided consent.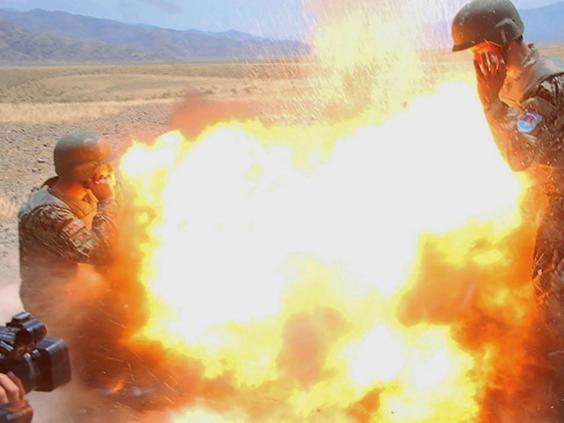 "Not only did Clayton help document activities aimed at shaping and strengthening the partnership, but she also shared in the risk by participating in the effort," the article accompanying the photos in the journal says.
Specialist Clayton was a member of the 55th Signal Company in Fort Meade, Maryland and the unit has honoured her by renaming its annual competition the Hilda I Clayton Best Combat Camera Competition.
Her name has also been engraved into the Hall of Heroes at the Defence Information School where she graduated.