Next generation Porsche 911 spotted undergoing initial testing, but the production car is a few years off yet.
It may still be a couple of years away, but the next-generation Porsche 911 has been spotted testing again, this time in snowy, wintery conditions compared to the 991 generation car's last outing at the Nurburgring.
There's little new to gauge with the fresh spy shots, despite the fact this mule wears slightly different bodywork compared to our last glimpse of the next 911. The bumper at the back is plucked from a 911 Turbo and it also gets that car's quad-exhaust tip setup, but it's still far too early to interpret any of the design and bodywork on show in the context of the next car.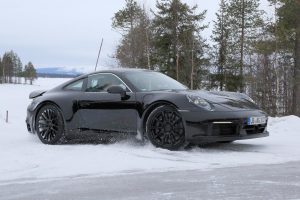 Conventional wisdom suggests Porsche is plotting a wider track for its next 911, increasing stability for better handling and driving dynamics, but it also hints at the potential for hybrid technology.
It's thought that the next 911 could spawn a plug-in hybrid model, so a wider track may be necessary in order to accommodate a hybrid drivetrain.
Porsche already has its fingers in the hybrid pie, and has a confirmed its commitment to electric technology given the Mission E – Porsche's all-electric concept car from the 2015 Frankfurt Motor Show – will reach production.
Hybridising the 911 means that it'll be much more economical and will reduce CO2 emissions, but It'll still be a performance orientated model, and will likely stick with a six-cylinder engine, Mossle added in January.
The current generation 911 has some life in it yet given it recieved extensive changes in 2015's 991.2 update and it's assumed that Porsche still has some new 991 models up its sleeve. As such there's still a good few years at least until the hybrid 911 arrives.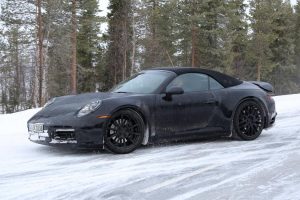 Alongside the recent sightings of the next 911 Coupe, the inevitable Cabriolet version has now been caught on camera. Again, the mule suggests a light evolution of the 911's looks is on the cards, alongside the wider hips to accomodate the car's upcoming wider track. It still wears a mish-mash of what appears to be current generation body-parts and bumpers, but in these pictures it's possible to pick out a long, thin LED light spanning the rear of the car and joining the two light clusters.