The Tesla Model 3 is now a known quantity – we have information about the different kit options available at launch, as well as interior and exterior measurements, and car performance and cabin comforts. Tesla CEO Elon Musk said that the whole point was to make car that is "the best car, hands down," for "anything close to the same cost," and it makes a strong case for that on paper.
The Model 3 starts at $35,000, as previously announced, but now we know exactly what that will get you. Here's the base level configuration for the new EV:
220 miles of range
130 miles of range recouped via 30 minutes of charging with Supercharger
30 miles of range per hour with home 240V, 32A charger
0-60 mph in 5.6 seconds
130 mph top speed
For an additional $9,000, you can upgrade to the long-range battery version, which comes to $44,000 in total before tax or credits. That includes the following boosted specs:
310 miles of range
170 miles of range achieved in just 30 minutes of charging via Supercharger
37 miles of charging per hour at home with 240V, 40A charger
0-60 mph in 5.1 seconds
140 mph top speed
Both cars feature the same interior, with a 15-inch touchscreen display that provides access to your virtual instrument panel, media and climate controls.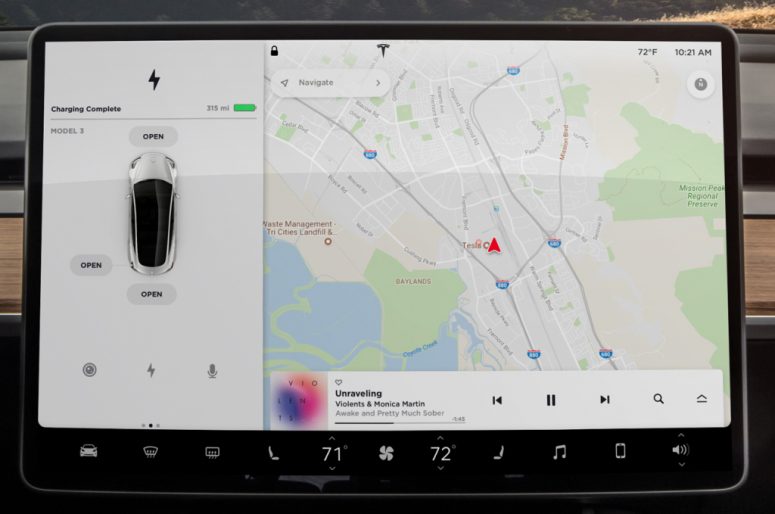 The car also features a number of convenience features standard, including:
Onboard navigation
Wi-Fi and LTE connection
Keyless entry via the Tesla app (there is no key or FOB for the vehicle)
Voice controls
Back-up camera
Rear seats that fold 60/40 (not full flat) for added cargo
Rear-view mirror that auto dims in low light
Dual zone climate control
Front console with two USB ports
Other options include a Premium Upgrade Package which rolls a number of finish and feature improvements for $5,000, complete with:
Heated seating and better cabin materials, including "open pore wood décor"
Two rear USB ports
Power adjustable front seats, steering column and side mirrors (which are very cool)
Subwoofer and premium audio system with surround
Tinted glass roof
Power folding heated side mirrors that dim automatically
Docking ports up front for two smartphones
LED fog lights
The vehicle also has all the sensors necessary to offer Enhanced Autopilot right now, which is another $5,000 upgrade and includes speed matching, lane keeping, automatic lane switching and self-park. The hardware offers the potential for full-self driving down the road, once it becomes available, too – which adds another $3,000 to the cost. Seven cameras, forward radar and twelve ultrasonic sensors are included in total in the vehicle.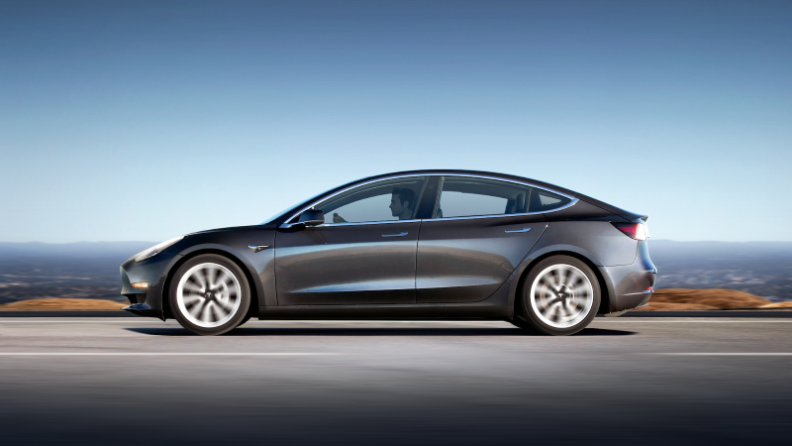 Other paid upgrades include color options beyond the basic black, which include metallic silver, deep blue and 'midnight silver' (a very nice looking slate gray), as well as a pearl white and red. Each of these is a $1,000 upgrade, and then you can also upgrade from the 18-inch standard wheels to a 19-inch sport variety for $1,500.
All-told, a fully upgraded Model 3 retails for $59,500 before tax or incentives, which is still quite a reasonable deal given what you're getting, especially when measured up against comparable gas fuel burning vehicles.
The base Model 3 is going to be shipping later than the version with the upgraded battery pack, which is what will be shipping out to the first customers over the next three months exclusively. If you've been waiting to see what the Model 3 has to offer in terms of actual detailed specs, now's the time to put down a reservation if you're feeling inclined – the line extends likely into 2019 at this point, and is only liable to keep growing.
This article was originally published by Techcrunch. Read the original article.