This Is the World's Fastest Electric Hypercar
Aston Martin has given us a better look at what could be the world's most extreme hypercar. The Valkyrie, designed and built in collaboration with Red Bull Racing, has so far been revealed in near-production specification, but has now released images of what we will actually see on the road next year.
With production-ready lighting and a full interior, the car in these pictures has undergone some pretty heavy changes from the model previously revealed. These include a completely re-profiled tail and new, more aggressive cutaway bodywork. Adrian Newey and his team at Red Bull made these aerodynamic developments, but it has been the job of Aston Martin's designers under the guidance of Marek Reichman to interpret them into a cohesive design.
The carbonfibre tub that acts as the Valkyrie's backbone allowed Newey and his team the ability to create two massive Venturi tunnels that sit either side of the car. These then lead back to the new diffuser, which gives the car its huge downforce capability without the need for high mounted wings or heavy mechanised active aero.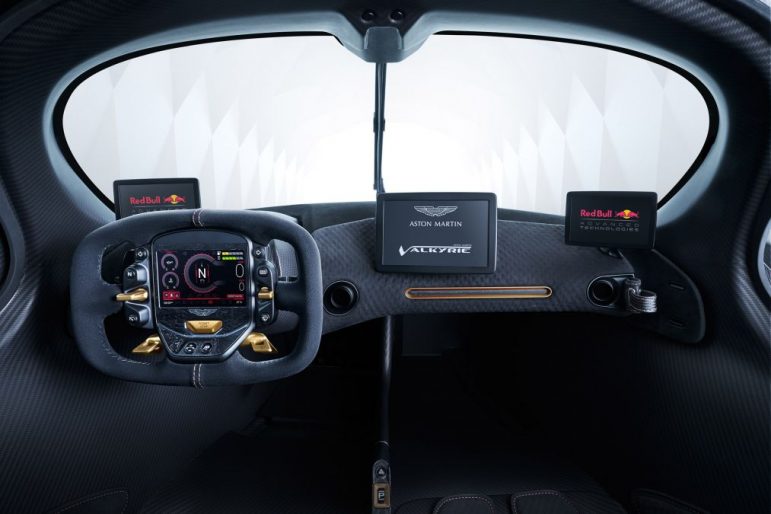 Aston Martin Valkyrie: design details
While downforce has always been the core design deliverable, the team also had the challenge of finishing the Valkyrie with the sort of details befitting an Aston Martin car of this price tag. One example is the front badge, deemed too heavy when made from the traditional enamel, Aston Martin has instead designed a chemical etched aluminium badge just 70 microns thick. At about 30% thinner than a human hair, the badge is then covered in a thin layer of clear lacquer to for protection against the elements.
The headlights are also very specialised and 30 to 40 per cent lighter than other units available to Aston Martin. The team stripped back the components found inside a normal headlight, directly mounting the essential elements to a single aluminium frame and removing all the shrouding one would usually see in a headlight unit.
Aston Martin's creative director of exterior design, Miles Nurnberger has said, "I would say we're around 95 per cent of the way there with the exterior design. Much of what you see is actually the structure of the car, so this had to be signed-off relatively early in the project. The remaining areas of non-structural bodywork are still subject to evolution and change as Adrian [Newey] continues to explore way of finding more downforce."
The Valkyrie interior was perhaps the biggest challenge though, as designers had to work within the strict packaging allowances informed by the carbonfibre tub. Like Ferrari did in its LaFerrari, Aston Martin has mounted the seats directly to the tub to save space, while inside, all the controls have been placed on an F1 inspired steering wheel.
The Valkyrie also continues Aston Martin's tradition of names beginning with V – such as Vanquish, Volante, and Vantage. Aston Martin's Chief Creative Officer, Marek Reichman, said, "Aston Martin model names have deep meaning. They need to inspire and excite. The Aston Martin Valkyrie is an incredibly special car that demands an equally remarkable name; an uncompromising car that leaves nothing in reserve. The connotations of power and honour, of being chosen by the Gods, are so evocative, and so pertinent to a car that only a fortunate few will ever experience."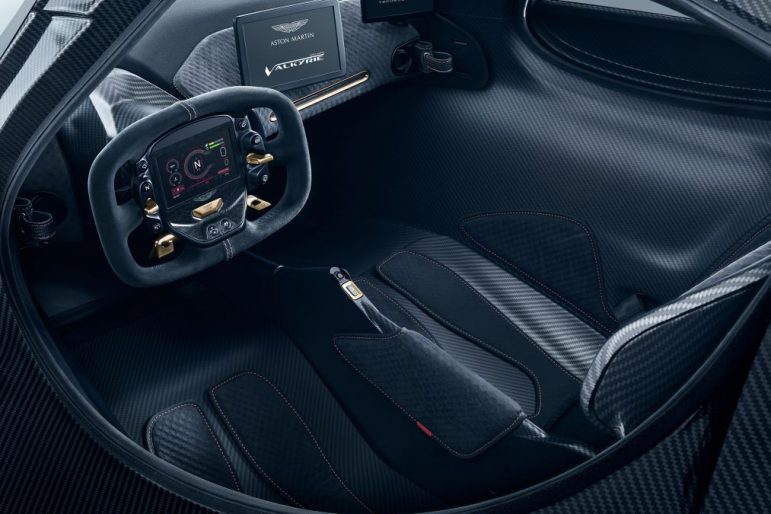 Cosworth engine tech for Aston Martin Valkyrie
Aston Martin will collaborate with iconic engine manufacturer Cosworth to produce the power unit for the Valkyrie hypercar. Cosworth is building a 6.5-litre V12 engine for the car, but unlike the current trend it's naturally aspirated, like the engine in the Ferrari LaFerrari. Also like that car, it's paired with a 'lightweight hybrid battery system' – which we're expecting will take the form of a KERS-style boost system like that on current Formula One cars.
More well-known names have collaborated on the rest of the car. Ricardo has been called in to produce the Valkyrie's gearbox, and has designed and manufactured a bespoke 7-speed paddle-shift transmission for the car. Meanwhile, Rimac (known most recently for its Concept One electric hypercar) has worked on the hybrid battery system.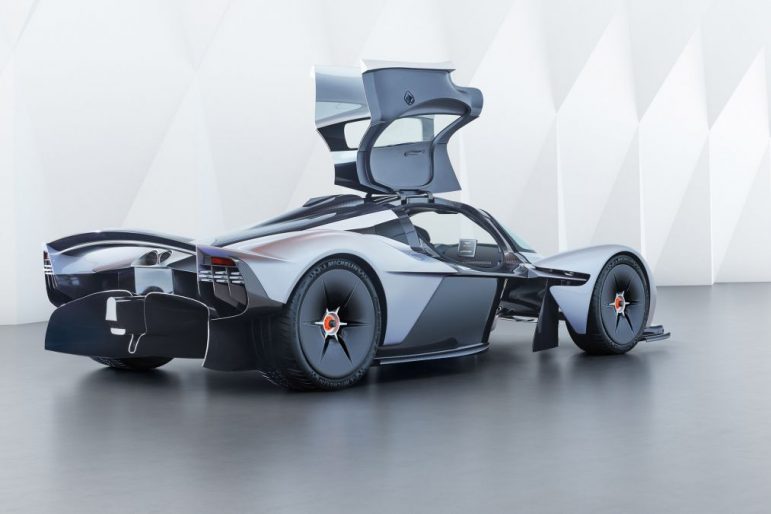 Other partners announced are: Multimatic, which will be constructing the AM-RB 001's carbon fibre MonoCell; Alcon and Surface Transforms, which supply the brakes and carbon discs; Bosch, entrusted with the ECU, traction control and ESP units; and Wipac, which will fit the car with full LED head and taillights.
Adrian Newey, Red Bull Racing's Chief Technical Officer, says of the technical partners supporting the AM-RB 001 project: "Much like Formula One, designing, engineering and building a car like the AM-RB 001 is a massive team effort. To achieve great things you need to surround yourself with the best people."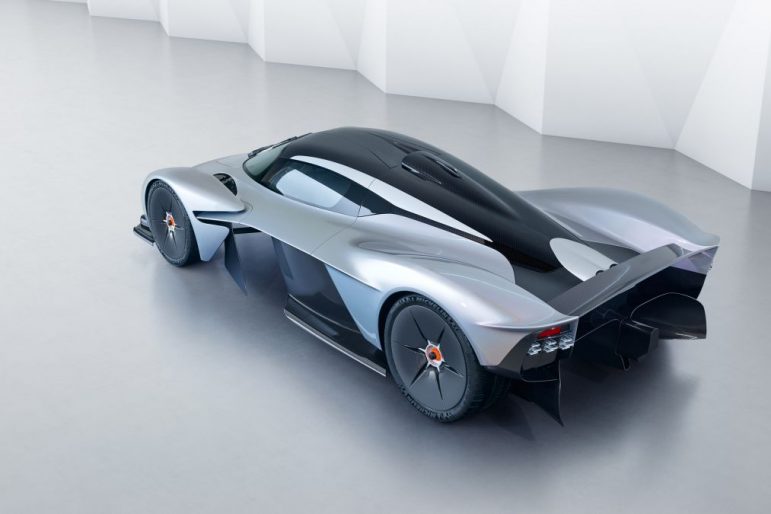 "Experience, creativity, energy, diligence and perfectionism are absolute must-have qualities in every area of the project. Having great technical partners such as those working with us is both reassuring and motivating. Together we aim to produce an innovative piece of engineering art."
Michelin announced as Valkyrie tyre partner
A car sure to be among the most extreme ever made available for the road needs tyres to suit, and at the Geneva motor show Michelin was confirmed as the official tyre partner for Aston's hypercar.
Surprisingly, the tyres chosen for the Valkyrie aren't some entirely new type designed to Adrian Newey's exacting requirements, but a set of Michelin Pilot Sport Cup 2s – a tyre we're more than familiar with from dozens of other sports and performance cars.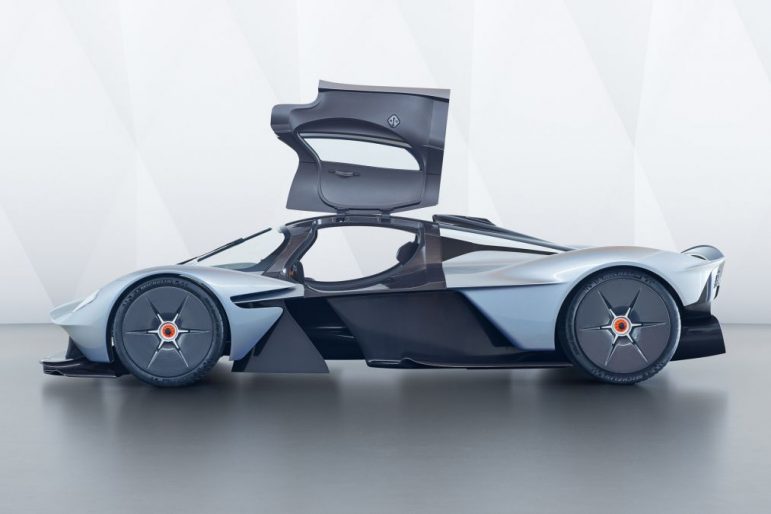 There's a good reason for that, of course: There's currently no better tyre for high performance road and track work, but the Valkyrie is sure to put the Cup 2s to their greatest test yet. 265/35 R20 rubber will be used up front and 325/30 R21 at the rear, a staggered setup common to mid-engined supercars, and Aston Martin has kept unsprung weight to a minimum by wrapping them around 20×9.5in and 21×11.5in magnesium centre-lock wheels.
Aston Martin Valkyrie: what is it?
The result of a collaboration between Aston Martin and Red Bull Advanced Technologies involving lots of very talented people. However, it will forever be known as 'Adrian Newey's road car'.
That's no slight on anyone else involved, more a mark of the significance of the most successful F1 designer of all time finally diverting his vast brain power to a car that people – very rich people, admittedly – can actually buy.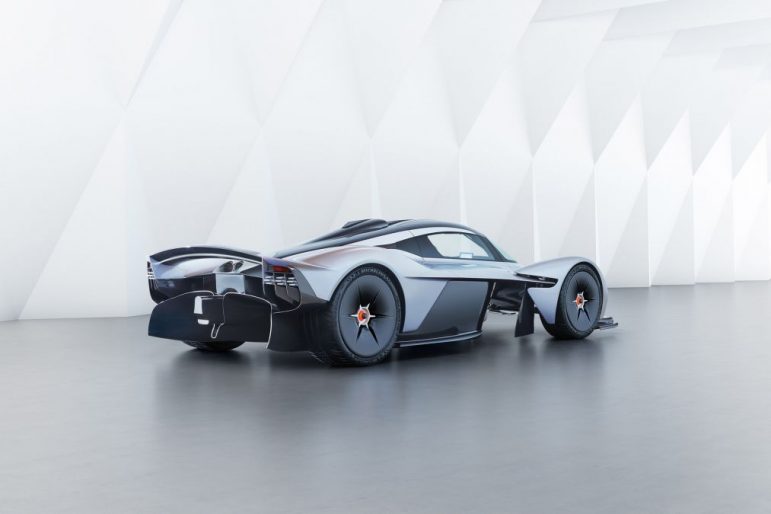 We imagined it would be covered in those intricate aero tricks, flips and slits that give you a migraine if you stare at them for long enough on an F1 or LMP1 car. But no. The Aston Martin Valkyrie looks so pure and simple. It's beautiful.
It's a two-seater supercar but the occupants will sit with their feet above their hip point – just like an F1 or LMP car. It's made from carbon fibre, the composition and thickness of which (it varies depending on strength requirements) is defined by Newey and Red Bull Advanced Technologies. The Valkyrie will have one horsepower for each kilogram of weight and we expect it to come in at around 1000kg.
The huge power output will come from a high-revving, normally-aspirated V12 with KERS, that's completely bespoke and shares nothing with the current Aston Martin V12 we know from the likes of the Vanquish, nor is it related to the One-77 or Vulcan engines.
Suspension is inboard, pushrod operated and said to be incredibly sophisticated. Expect an active suspension system, although Red Bull Advanced Technologies and Aston Martin remain very tight-lipped about the exact make-up of the system.
Freed from the constraints of racing regulations Newey has devised a car that looks set to instantly make cars like LaFerrari, P1 and 918 Spyder seem archaic, heavy and, unbelievably, rather slow. It has downforce levels similar to an LMP1 car, and will achieve 4.5g of lateral force (on slicks, we presume).
The price of owning a Newey masterpiece? Somewhere between £2-3-million. There will be 99 Aston Martin Valkyries produced and a further 24 of those even more extreme track-only editions with deliveries starting in 2018.
This article was originally published by EVO. Read the original article.