The rampant gun violence in Chicago has taken a grim new turn after the fatal shooting of a cousin of one of the city's top basketball stars as she walked her small baby in a push-chair.
Nykea Aldridge, 32, was walking near a school in south Chicago on Friday when two males approached and fired shots at another man, police said. While not the intended victim, Ms Aldridge was struck in the head and arm and was later declared dead at a nearby hospital.
While some areas of Chicago are gripped by an epidemic of gun violence – the city has recorded 65 homicides in July alone, the most for the month since 2006 – the death of Ms Aldridge is drawing unusual attention because she was the cousin of Dwyane Wade, a basketball player who joined the Chicago Bulls from the Miami Heat just this summer.
It quickly fed into the presidential contest on Saturday with Donald Trump emphasising his claim to being the law and order candidate ready to crack down on criminals. He lamented the killing of Ms Aldridge on Twitter and suggested that it would also help persuade African-Americans to vote for him.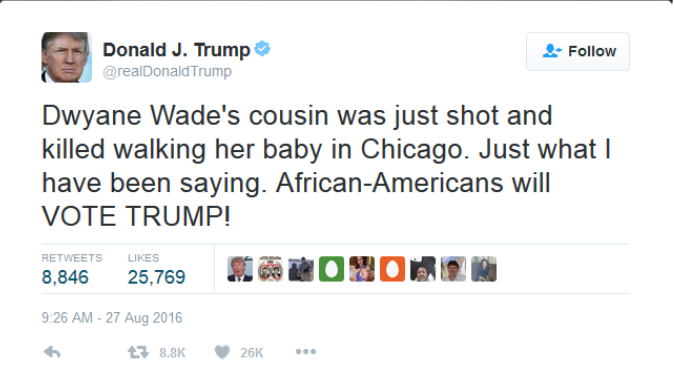 Chillingly, Mr Wade had just the day before appeared via satellite in a town hall meeting precisely discussing Chicago's gun blight hosted by the sports channel ESPN. Also on the programme was his mother, Jolinda Wade, who is a pastor. Mr Wade has his own charitable organisation, the Wade World Foundation, which does community outreach in Chicago.
He reacted to the killng of Ms Aldridge first on Twitter. "My cousin was killed today in Chicago. Another act of senseless gun violence. 4 kids lost their mom for NO REASON. Unreal. (hash)Enough IS Enough."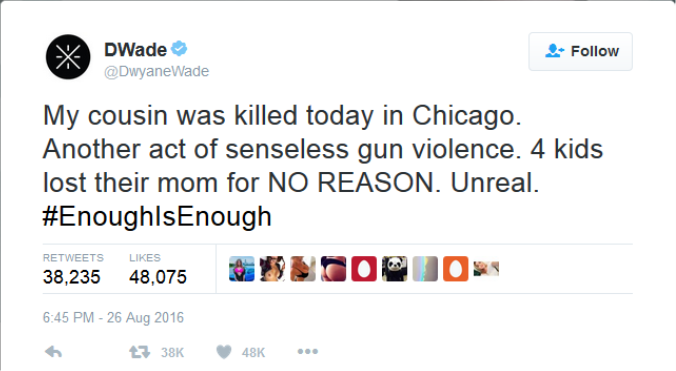 By the end of July, Chicago had recorded 381 murders up 30 percent from the same period of 2015. The city has a higher murder rate than New York or Los Angeles or any other large American city.
Mr Wade's mother, Jolinda, appeared with other mourning family members outside the hospital emergency room after Ms Aldridge was pronounced dead. Recalling her appearance on ESPN the day before she said she had agreed to do the town hall, "never knowing that the next day we would be the ones that would actually be living and experiencing it."