Wondering what to get mom for Mother's Day? Well, there's nothing better than a handmade gift! Here are 4 DIY gifts your mom will love.
DIY cookie wrap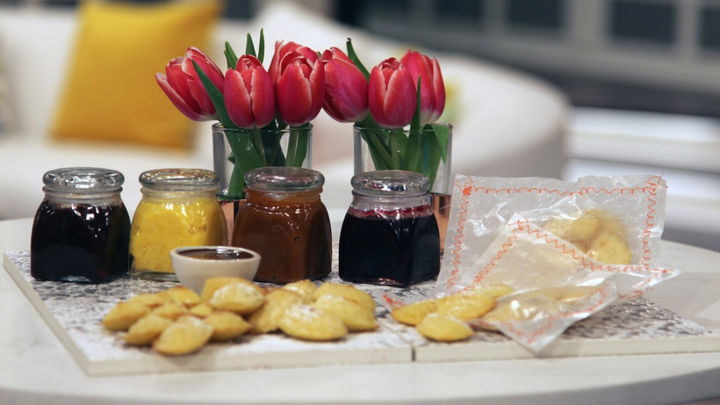 What you'll need:
Waxed paper
Sewing machine
Directions:
1. Using the largest zigzag stitch on your sewing machine, sew 3 sides of waxed paper together.
2. Place cookies inside.
3. Sew up the open end.
4. Adorn the package with a monogram sticker, if desired.
5. Put cookie dipping sauces in cute jars and gift to mom.
Custom tea towels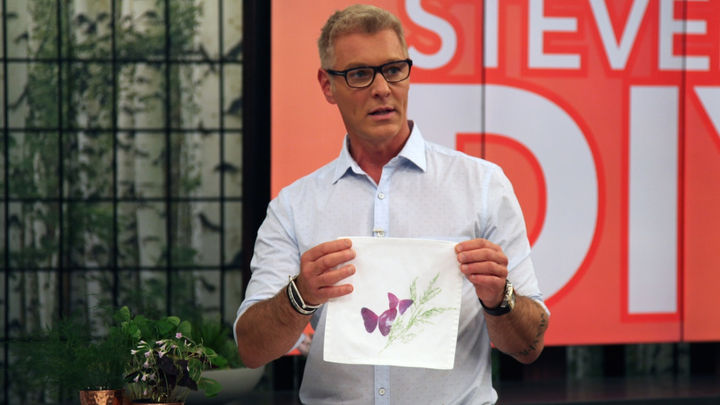 What you'll need:
Cotton or linen napkins/tea towels
Flowers (flowers that can lay flat are best) we used a "purple shamrock"
Greenery of your choice
Marble rolling pin
Ball-pein hammer
Rubber mallet
Waxed paper
Directions:
1. Lay a sheet of waxed paper down on your work surface.
2. Lay napkin on top of waxed paper.
3. Lay two flowers face up on napkins, placing them in the shape of butterflies.
4. Put another sheet of waxed paper on top.
5. Roll over the surface with rolling pin.
6. Use a rubber mallet and/or ball-pein hammer to add additional force to transfer colour of flowers and greenery
7. Use bristles of small paint brush to brush away any flowers or greenery that are stuck to the fabric.
8. When item is soiled after use, wash on gentle cycle and hang to dry.
Black salt body scrub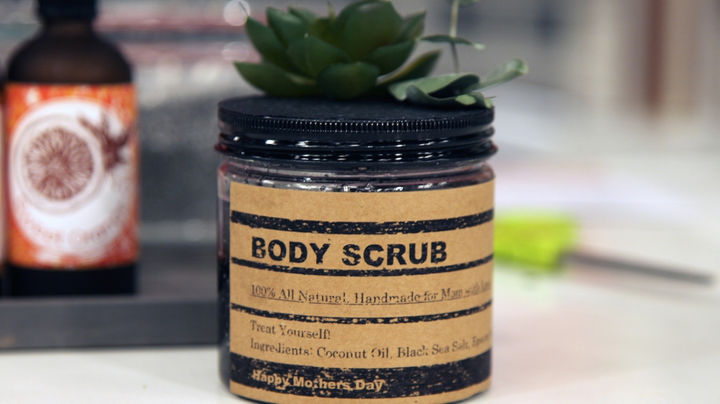 What you'll need:
Glass bowl
Mixing spoon
Black salt
Epsom salt
Coconut oil
Essential oils of your choice
Decorative paper
Faux succulents
Label
Plastic or glass jar
Directions:
1. Add equal parts black salt and epsom salt to glass bowl and mix well.
2. Fill jar 3/4 full with salts.
3. Add enough oil to jar to just cover the top of the salt.
4. Add 10-20 drops of your favourite essential oil.
5. Shake jar to mix well.
6. Glue decorative paper and faux succulents to the top of the jar.
7. Add label to jar and you're done!
Here are some of the benefits of these body scrub ingredients:
Black sea salt assists the body with removing harmful impurities. It's also a natural disinfectant, and relieves dry and itchy skin. Epsom salts help us to feel invigorated & ease restlessness and anxiety. Coconut oil helps with flaky, dry skin.
Leather catchall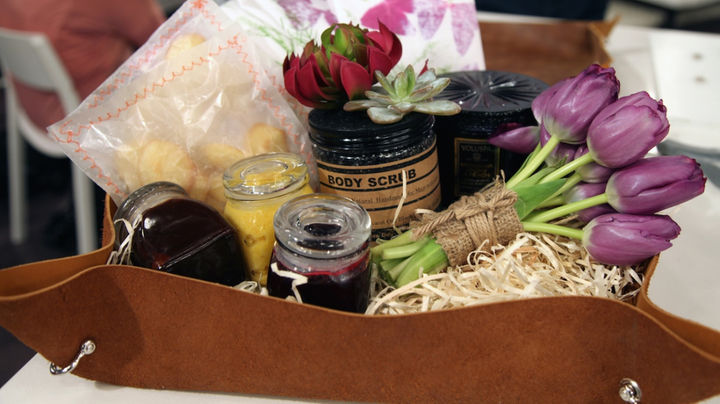 What you'll need:
Piece of leather
Leather punch
Grommets
Cutting mat
Sharp scissors
Ruler
Double cap rivets or other decorative hardware
Directions:
1. Cut a piece of leather to desired size.
2. Pinch the corners of leather together to find where you'd like to mark them. Mark 2 spots at each corner (8 total).
3. Working on a cutting mat, using leather punch, punch holes at the 8 marks.
4. Push grommets through on the outside to give holes a finished look.
5. Gather each corner to match up the holes and attach hardware.